NHL Playoffs: Grades for Night 36
The Chicago Blackhawks take a commanding 3-1 lead thanks to another big game from Marian Hossa. Patrick Kane also found the back of the net.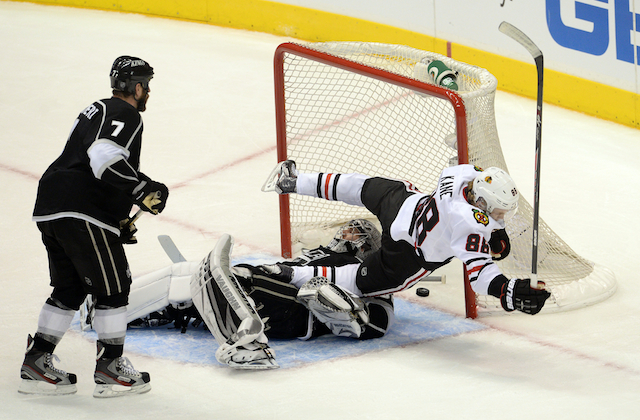 More NHL Playoffs: Scores | TV Schedule | Expert Picks | Odds | Mock Draft | Rumors
Team
Grade
Analysis
A
The Blackhawks were basically playing without a defenseman in Game 4 because

Sheldon Brookbank

was so bad in place of Duncan Keith that he played less than seven minutes. Still, Chicago was able to shut down the Los Angeles offense and take a commanding 3-1 lead in the series and do what no team has been able to do this postseason: Beat the Kings at the Staples Center.
D
The Kings had a nice enough start getting yet another goal from defenseman

Slava Voynov

, but they were sloppy on a couple of line changes that led to Chicago goals. Even worse, once the Kings fell behind in the third period they did little to mount any sort of an attack to come back and tie it getting outshot 9-2 in the third period.
 A
Marian Hossa is simply one of the best. There are few players in the NHL as good as he is in all areas of the game and he just kept piling up the points on Thursday by scoring the game-winning goal early in the third period when he ripped a quick shot off the rush past Kings goalie Jonathan Quick. If he's not in the discussion for the Conn Smythe Trophy, then something is very wrong.
A
You can relax, Chicago, because Patrick Kane is back on the scoreboard. Kane found the back of the net late in the second period on Thursday night to tie the game at two and played his best game of the series. Getting him back onto a line with Jonathan Toews seemed to help quite a bit.
Players are set to give personalized messages for Adidas' former hockey equipment brand

The 40-year-old center is returning to the Wild after a successful run in Pittsburgh

Edmonton locks up its 21-year-old RFA a month after McDavid's historic extension
Even with a new coach and added veteran help, the Canucks have a long road ahead

Unlike expansion teams before them, the Knights have enough talent to entertain right away

Brian Lawton says he 'would not be surprised' if Boston deals its young star to end contract...