NHL Playoffs: Grades for Night 5
Handing out grades for the NHL playoffs on Night No. 5 of the postseason.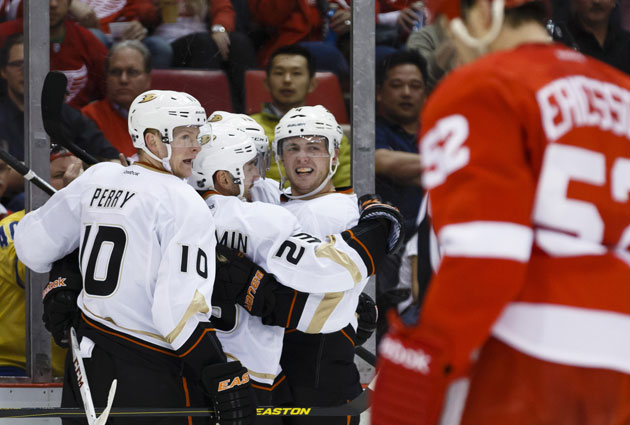 More NHL Playoffs: Scores | TV Schedule | Expert Picks | Odds | Mock Draft | Rumors
Team
Grade
Analysis
 A-
The Capitals turned in a very solid game on Saturday afternoon. They were perfect on the penalty kill, they created numerous scoring chances even if the only one that went in was in overtime off Mike Green's stick. Of course Braden Holtby was spectacular again. Only complaint you could have is the offense over-passing but they still outshot the Rangers.
 C+
It's not as if the Rangers are being run ragged by the Capitals or anything, but they simply can't score, even when on the power play. Heck, on Saturday they went the final 17:23 of the game without even recording a shot on goal, and that included four minutes of power-play time. Henrik Lundqvist was outstanding and they did a better job of staying out of the box, but it was still not a good enough effort.
 A
Talk about a complete 180 degree turn from Game 1. Coach Randy Carlyle deserves some credit for mixing things up and inserting new faces for Game 2, because the Maple Leafs looked completely different. They were once again outshot by the Bruins but nowhere near as badly as the first game. And a major difference was that the Leafs were playing from ahead. Not to mention they had some beautiful goals from James van Riemsdyk, Phil Kessel and

Joffrey Lupul

. It was a complete effort. We have a series.
 D
Unfortunately for Boston, that was more typical of the Bruins team we saw going into the playoffs, the team that was struggling. The defense was not sharp and Tuukka Rask was unable to bail them out. Perhaps more appropriately, they hung him out to dry. I hate to use the cliche, but the Leafs just looked the hungrier, more aggressive team out there, winning the majority of battles and taking it to the Bruins. They were reacting for much of the game, including on the line-matching.
A
Any time you go into a road arena and shut out the opposition in a 4-0 win, you're doing a lot right. The Ducks took advantage of their chances in the second half of the game and more importantly they limited Detroit's chances. Jonas Hiller couldn't have been any better than he was, even if he wasn't asked to do a ton, making 23 saves. They responded to that tough Game 2 loss the way you'd hope.
 F
The Red Wings just didn't have it at all Saturday night, which is pretty inexcusable when you play at home. They managed only 23 shots against the Ducks, of course none of them went in. Special teams were a big issue because not only did they give up two goals on the penalty kill, but the Ducks scored one short-handed as well. A performance like that takes away any good vibes from a road OT win.
A-
The Kings did what they needed to, that's defend home ice and get back in the series with the Blues. It was everything you'd expect from a Kings-Blues game; physical, low-scoring, tight and highly entertaining. The scary part is how good Jonathan Quick was, stopping all 30 Blues shots. He's been their best player in this series even with the few massive blunders. Kudos to Justin Williams as well for a spectacular game if he he didn't pick up any points. The one criticism was taking their foot off the gas in the third with only two shots.
 B+
The Blues could have easily walked out of Game 3 with a commanding series lead if they could only find a way to beat Quick. They might have lost on Saturday night but the game was once again played a way they like. They allowed only 21 shots to the Kings while recording 30. Their forecheck was again relentless and Brian Elliott was solid as well, giving up just one goal that was scored in a scrum. Even in a loss they seemed to send a message that they're still in control of this series.
The Senators defenseman was thrilled to learn that he'll be the father of a baby boy

Washington, Nashville and Tampa Bay are still rolling with winning streaks atop the NHL

Saturday's showdown will serve as a rematch of one of the NHL's first-ever regular season...
Stacia Robitaille says Donald Trump told her in an elevator that she was coming home with...

Vladislav Yeryomenko was the Teddy Bear Toss goal scorer for the Calgary Hitmen

The Golden Knights are finally getting their No. 1 goalie back after a 25-game absence