NHL Playoffs Takeaways: Sharks steamroll Predators in Game 7
The San Jose Sharks are moving on to the Western Conference finals thanks to a dominating win over the Nashville Predators in Game 7 on Thursday night.
Two Game 7s in the second round of the Western Conference playoffs sounded like it was going to be a great time, and then both games turned into absolute blowouts very, very quickly.
Just one night after the St. Louis Blues punched their ticket to the Western Conference finals with a huge win over the Dallas Stars, the San Jose Sharks completed the matchup when they absolutely dominated the Nashville Predators on Thursday night with a 5-0 victory that probably was not even that close.
The win puts the Sharks in the West finals against the Blues, where they will try to make their first Stanley Cup Final appearance.
Here are seven takeaways from their huge Game 7 win Thursday night.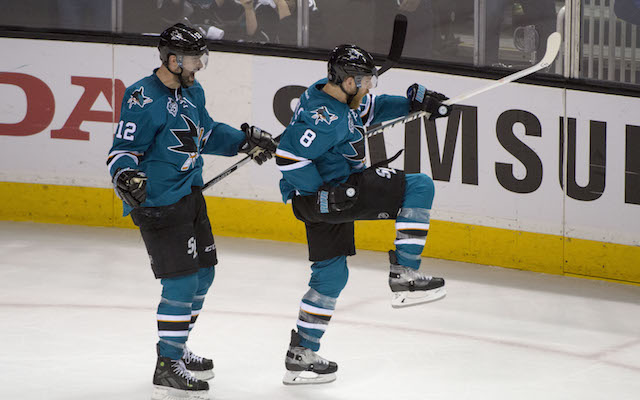 1. Maybe these Sharks really are different. Like their conference final opponent in St. Louis, the Sharks have been more of a postseason punchline for most of their history because they have yet to make a Stanley Cup Final, even though they have had great players, great teams and so much has been expected from them. After missing the playoffs entirely a year ago, there was a belief that their window to potentially win a championship had completely slammed shut. They have shown this postseason that not only is that window still open, but that this might be the team to take advantage of it.
Already this postseason they topped their archnemesis in Los Angeles, and then came out in Game 7 on Thursday night and looked like a team on a mission from the first drop of the puck.
They jumped out to an early 2-0 lead, had 17 of the first 20 shots on goal, and always looked to be one step ahead of whatever it was Nashville was doing.
They never slowed down the rest of the game.
2. The Sharks' power play is unbelievable. The talent they can put on the ice looks impressive enough on paper, but when they actually get a chance to play, it can be a clinic in puck movement. 
They got things started in the first period when Joe Pavelski scored his ninth goal of the postseason on some perfect tic-tac-toe passing. 
Goal number 9 for @jpav8, and a great start to #Game7 for the @SanJoseSharks. #StanleyCuphttps://t.co/HYmIkIWuLu

— #StanleyCup Playoffs (@NHL) May 13, 2016
The Sharks were the No. 3 power-play unit in the NHL during the regular season at 22 percent, and they have been even better in the playoffs. You cannot take penalties against this team. 
Also on that goal: What in the world was Predators defenseman Shea Weber doing in front of the net?
3. The Sharks scored on the rarely seen 4-on-1 rush. Speaking of that power-play unit, it was at it again early in the third period when Joe Thornton scored his third goal of the postseason while taking advantage of a 4-on-1 rush.
This is the kind of night it was for Nashville.
The old 4-on-1. #Game7 #StanleyCuphttps://t.co/uSWsHzHR5n

— #StanleyCup Playoffs (@NHL) May 13, 2016
4. Joel Ward scored a beauty of a goal. Joel Ward is one of those players that seems to have a way of coming through with a goal in a big game, and he did it again Thursday when he took advantage of a gamble by Predators defenseman Roman Josi and pretty much singlehandedly embarrassed Nashville's top defensive pairing and starting goalie. 
Ward's world. #Game7 #StanleyCuphttps://t.co/HYpBCgHEBG

— #StanleyCup Playoffs (@NHL) May 13, 2016
5. Pekka Rinne had every reason to be angry. Rinne did not have his best season in net and he was probably their biggest question mark heading into the postseason. And even though he was pulled early in the third period after giving up five goals, let's be very clear about something: This game was not on him. 
He was pretty much left out on an island by his teammates (specifically the Weber-Josi pairing) and really did not have much of a chance on anything. Just minutes after giving up the 4-on-1 goal to Thornton, Patrick Marleau scored on yet another odd-man rush to put the Sharks up 5-0.
Before exiting for the bench, Rinne snapped and destroyed his goalie stick.
Nashville cancelled pic.twitter.com/Y5OhTjenIP

— Pete Blackburn (@PeteBlackburn) May 13, 2016
Honestly, with the way both teams played Thursday, Rinne is the only reason this game was not even more lopsided.
6. It took Nashville 50 minutes to get its 10th shot on goal. The Predators finished the game with only 20 shots on goal, tied for the fourth-worst mark in the team's playoff history. 
They did not record their 10th shot on goal until there were less than 10 minutes to play.
San Jose had 10 shots on goal in the first 14 minutes of the game.
7. Face it, Joe Thornton and Patrick Marleau produce in the playoffs. A lot of the Sharks' postseason exits get placed entirely on Thornton and Marleau, and it is absolutely crazy when you look at what they produce in the postseason. Marleau scored his fourth goal of the playoffs on Thursday, which gives him 64 for his career. Since he entered the NHL, no player in the league has more playoff goals during that stretch. Thornton, thanks to his two points Thursday, now has 93 points in the playoffs since joining the Sharks. That is 10th most in the NHL during that stretch. Whatever thought you have about them "not coming through in the clutch" is off the mark. They have always produced in the playoffs, and they did it Thursday in Game 7.
David Kelly has nailed 43 of his last 54 NHL picks and just released a play for Sunday's m...

A look at 10 veterans who figure to be on the market as Monday's deadline draws near

SportsLine's Mike McClure, a DFS pro with more than $1M in winnings, gives optimal lineup...
Pittsburgh finds itself a new third-line center as it looks to make a third straight run at...

The All-Star is one of the biggest names in the rumor mill, and reports say a move is on the...

The 38-year-old Luongo has been a longtime Parkland resident and is a father of two