NHL reaches agreement on Olympics participation
The NHL reportedly has reached an agreement to allow its players to participate in the 2014 Wnter Olympics in Sochi, Russia.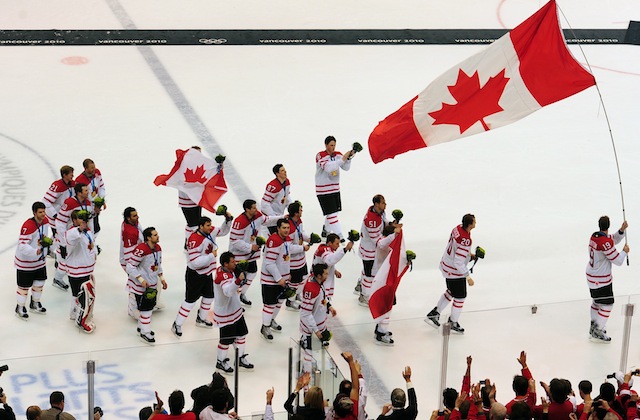 More NHL offseason: Rumors | Top 50 Free Agents | Buyout Tracker | Trade Tracker
The NHL reached an agreement on Friday with the International Ice Hockey Federation to allow its players to compete in the 2014 Winter Olympics in Sochi, Russia.
As a result, the NHL will take an Olympic break starting Feb. 9 and will resume Feb. 26.
The NHL expects more than 120 of its players to participate in the games.
"The National Hockey League features the most international player population in professional sports, and our outstanding athletes take tremendous pride in representing their homelands on the global stage," NHL commissioner Gary Bettman said in a statement. "The decision to participate in the XXII Olympic Winter Games in Sochi was in many ways a difficult one, but one that we know will be well received by our Players and, most importantly, by the vast majority of our fans and sports fans everywhere."
NHL players have been participating in the Olympics since the 1998 games in Nagano, Japan, with Canada (twice), the Czech Republic and Sweden. The United States has won silver two times, including the 2010 games in Vancouver when they lost the gold medal game in overtime to Canada on Sidney Crosby's game-winning goal.
Finalizing the Olympic participation took longer than expected and delayed the announcement of the NHL schedule for the 2013-14 season. Among the issues that had to be ironed out along the way was the cost of transportation to the game, insurance on player contracts, and the hotels the players and their familes would be staying in.
Competition begins on Feb. 12 with Sweden taking on the Czech Republic. The first U.S. game is on Feb. 13 against Slovakia.
The gold medal game will be played at 7 a.m., Feb. 23.
Los Angeles isn't rushing to sign the 45-year-old forward any time soon

The University of Denver star and Hobey Baker Award winner is drawing interest

Intrigue is high in Arizona after a wild offseason, but expectations should still be tempe...
Players are set to give personalized messages for Adidas' former hockey equipment brand

The 40-year-old center is returning to the Wild after a successful run in Pittsburgh

Edmonton locks up its 21-year-old RFA a month after McDavid's historic extension