NHL reduces Raffi Torres suspension by four games
The NHL has reduced the suspension to Phoenix Coyotes forward Raffi Torres by four games, cutting it from 25 games down to 21. He will miss the first eight games of the regular season.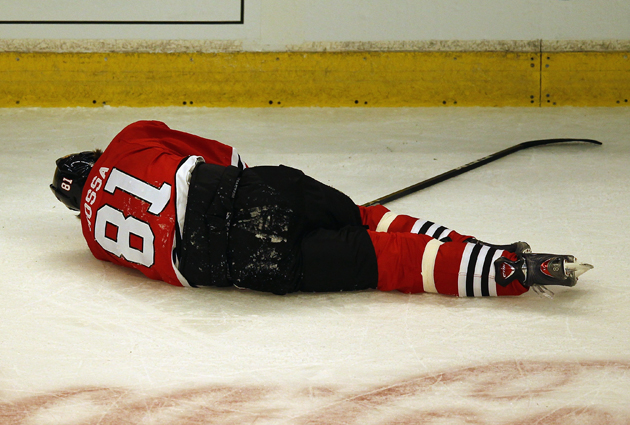 Blackhawks forward

Marian Hossa

on the ice after a hit from Raffi Torres. The NHL reduced Torres' suspension from 25 to 21 games on Monday. (Getty)
The NHL has finally ruled on the appeal filed by Phoenix Coyotes forward Raffi Torres, and the league has decided to reduce his suspension by four games. Torres was issued a 25-game suspension by Brendan Shanahan and the department of player safety during the playoffs for his vicious hit to the head of Chicago Blackhawks forward Marian Hossa.
Hossa suffered a concussion as a result of the hit and had to be taken off the ice on a stretcher. He did not return for the remainder of the series for Chicago.
Torres appealed the decision and had an in-person meeting with commissioner Gary Bettman. Obviously, he was able to present enough of an argument to get four games removed from the punishment.
"This type of on-ice conduct cannot and will not be tolerated in the National Hockey League," Bettman said. "We have seen similar behavior before from Mr. Torres and, particularly given the League's heightened scrutiny on hits to the head, I believe that a very significant penalty is warranted in this case. We hope and expect that the severity of this incident, and the League's response to it, will help prevent any similar incident from occurring in the future."
Torres has already served 13 games of the suspension (during the remainder of the Coyotes playoff run to the Western Conference Final), and by reducing the suspension by four games he will only miss the first eight games of the regular season instead of the first 12.
He is not eligible to appear in any of the Coyotes preseason games.
He will also lose over $170,000 in salary as a result of the suspension.
In case you've forgotten, this is the hit that led to all of this:
Vladislav Yeryomenko was the Teddy Bear Toss goal scorer for the Calgary Hitmen

The Golden Knights are finally getting their No. 1 goalie back after a 25-game absence

Washington has won four straight, and the Kings are also on a tear right behind the Lightn...
The NHL says it's only interested in expanding to Seattle, but here's a look at all the moving...

The NHL says it is only looking toward Seattle for the next expansion team

The 33-year-old defenseman hopes to help find a cure for serious head injuries in athletes