NHL rumors: Alex Pietrangelo, Blues going nowhere in contract talks
Alex Pietrangelo remains unsigned by the Blues and there appears to be no end in sight, bringing up talk of the dreaded H word: holdout.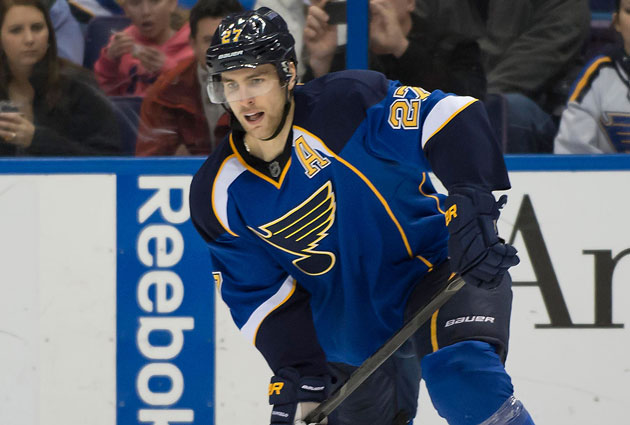 More NHL offseason: Rumors | Top 50 Free Agents | Buyout Tracker | Trades | Transactions
When this offseason began, the top item on the St. Louis Blues' to-do list likely had to do with re-signing defenseman and restricted free agent Alex Pietrangelo. Here it is Aug. 5 and item remains unchecked on the list.
Making things a little more uncomfortable for Blues fans is the fact that there doesn't seem to be a whole lot of momentum or traction in talks at the moment, according to Jeremy Rutherford of the St. Louis Post-Dispatch. It has resulted in the H word being uttered:
A breakthrough in negotiations is always possible, but with time slipping away, the potential of a holdout is also plausible. The last two NHL players to miss part of the regular season -- Montreal's P.K. Subban and Colorado's Ryan O'Reilly -- are represented by Newport.
Back away from the ledge, Blues fans, there's still plenty of time as GM Doug Armstrong reminds:
"It's not something that I'm overly concerned about at this particular time. We've got six weeks until training camp and these things get done at different times. Alex knows we want him here, Alex wants to be here and at the right time things will take shape."
It sounds as though there are multiple issues at play here. First, as is always the case, is money. Pietrangelo is looking for the big bucks and why shouldn't he? He's an elite-level defenseman and have you seen what other players have been getting this summer? Also at issue is the term. Do the Blues want to go long-term on a bridge contract with Pietrangelo?
Of course there is always some risk in that. You might sign a player that regresses and then becomes an albatross on your salary cap. I'm going to go out on a limb here and say that's not going to happen with Pietrangelo. The 23-year-old has three full seasons under his belt and has been very good in each of them. It's a decent enough sample size that you would think the Blues would feel OK committing to him long-term. I think I would if I were Armstrong.
It can always work the other way too where a short bridge deal costs you a chance to get the player in at a cheaper rate as the Canadiens are soon to find out with Subban.
There is still a lot of time and most likely something will get done, but until it does it will remain a nervous situation. As to those mentioning "offer sheet!" it would probably be a wasted effort. The Blues have about $7 million in cap space so even if a team got crazy and threw $8 million per season at Pietrangelo, the Blues could still match and then work out the salary cap after that. The only way he won't be with the Blues at the beginning of the season will be if he's just not in camp.
Pietrangelo, the fourth overall pick by the Blues in 2008, had five goals and 19 assists in 47 games last season.
This might be the new norm at the Winter Olympics, so here are three reasons why

It isn't a surprise to anyone, but an NBC executive acknowledged the ratings

SportsLine's Mike McClure, a DFS pro with more than $1M in winnings, gives optimal lineup...
The Blackhawks take a stand against racism by banning four fans from future home games

With Brian Elliott and Michal Neuvirth hurt, Philadelphia adds a big name to the net

David Kelly has nailed 35 of 42 NHL picks and he just locked in a selection for the Ottawa-Nashville...