NHL rumors: Alexander Burmistrov looking to leave Jets?
Alexander Burmistrov, just 21, apparently wants out of Winnipeg. He will be a free agent this summer, so the Jets could trade him before.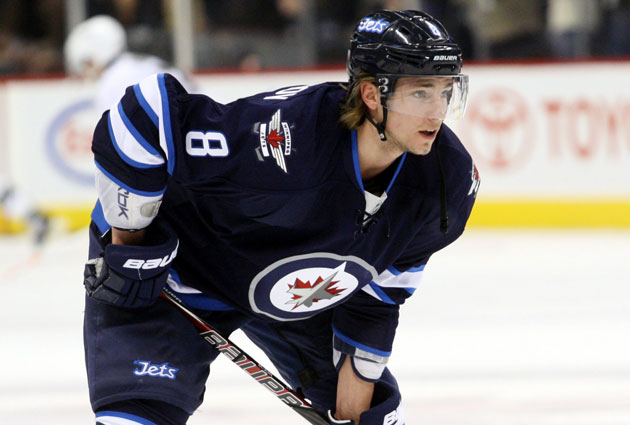 More NHL Playoffs: Scores | TV Schedule | Expert Picks | Odds | Mock Draft | Rumors
There was a lot of talk around Alex Burmistrov and leaving Winnipeg at the trade deadline, something that didn't end up happening. It looks like that talk will heat up again this summer.
The 21-year-old center, who went eighth overall to Atlanta/Winnipeg in the 2010 draft, has apparently had enough time with the Jets. He is scheduled to become a free agent this summer and, according to Gary Lawless of the Winnipeg Free-Press, he plans on using his rights to walk.
Part of the desire to leave, per Lawless, is a fractured relationship with coach Claude Noel. Burmistrov was scratched on a couple of occasions last season, and the two just never quite seemed to see eye to eye.
Then again, this is all news to him, Burmistrov says.
Burmistrov posted a snapshot of the story about him leaving the Jets on Instagram w/a comment "No, I haven't heard." bit.ly/10lafjZ

— Dmitry Chesnokov (@dchesnokov) May 22, 2013
Regardless, if he is on his way out,  the Jets should get a chance to trade him, possibly at the draft a week before free agency begins. Teams will be adding young and talented players during the draft in New Jersey, and Burmistrov might still fit that bill.
He has struggled a bit with the Jets in reaching the vast potential that was seen in him, but remember he's just 21 and could grow into a big-time player. Or he could continue to disappoint some. In 44 games for the Jets last season he had just four goals and six assists. His career highs came two seasons ago when he had 13 goals and 15 assists in 74 games.
You wouldn't think the return value will be extremely high, but the Jets should be able to get something for him should they elect to go that route in the end. There will assuredly be at least one team that thinks he can progress in their organization.
NHL players are still disappointed they won't be going to skate in PyeongChang

With Artemi Panarin in the mix and a Vezina winner headlining the defense, Columbus can be...

The league's crackdown on faceoff infractions and slashing penalties isn't without some cr...
Joffrey Lupul spent last season on long-term IR but seems to be saying he's healthy

Early playoff trouble has been evident, but the Wild tout an offense capable of making another...

Why walk with skate guards when you can rollerskate instead?