NHL rumors: Andrew MacDonald declines Isles offer, could be dealt
Andrew MacDonald reportedly turned down a four-year extension from the Isles a few weeks ago so the defenseman could soon be on the move.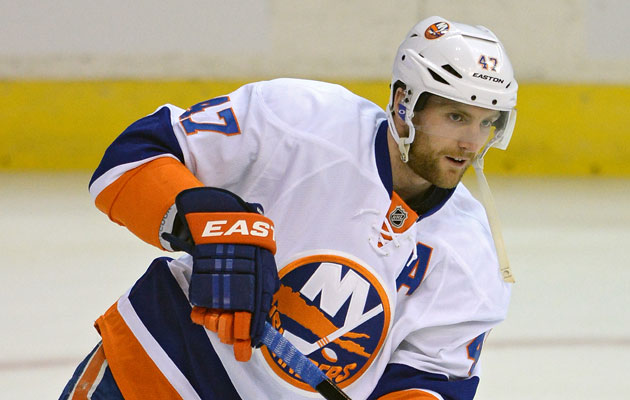 More NHL: Scores | Standings | League Leaders | Odds | Injuries | Power Rankings
For the second time this week, news that the Islanders reportedly offered a long-term contract extension for a free agent-to-be and for the second time this week, that offer has reportedly been declined.
After Thomas Vanek turned down an offer from the Islanders for seven seasons, defenseman Andrew MacDonald has also apparently balked at an offer from GM Garth Snow. Per the New York Post's Brett Cyrgalis, MacDonald passed on a pretty rich deal a few weeks ago.
A month a half ago, the Islanders defenseman turned down a four-year, $16 million offer, The Post has learned.

MacDonald and his agent had previously asked for a four- or five-year deal at $5 million per, and even got the Islanders to come up from their original starting price of $3.5 million per.
With MacDonald careening toward the free-agent market, this means that MacDonald is likely sitting on the trade block right next to Vanek for the Islanders. According to Cyrgalis, the Islanders have already received one substantial offer for MacDonald.
One thing that MacDonald is is a work horse. He is averaging 26:40 of ice time per game this season and is on pace for his best offensive output to date. The 27-year-old defenseman has four goals and 20 assists in 58 games this season.
Having said that, it's surprising to see he would have rejected an offer that would have paid him $4 million per season. Clearly he thinks he could get more on the free-agent market and he's probably right seeing how GMs spend in free agency, but the offer seems to be more-than fair.
MacDonald plays a lot but his underlying metrics aren't flattering. He has a 43.3 percent Corsi close, which is a measure indicating possession. When he's on the ice, only 43.3 percent of the shot attempts are going on the other team's net in close games. That's not very good.
But again, he is a defenseman who can play a lot of minutes and teams looking for defensive help could certainly be willing to take a shot on him perhaps in a reduced role, but if he's a pure rental you wonder how much teams would be willing to give up. If there's already a substantial offer on the table then clearly the answer is a good amount.
The 38-year-old defenseman had been on the free agent market since July 1

New York fans aren't too happy about it, either

The league is not backing down, but players aren't hiding their frustrations, either
Draisaitl remains unsigned as Edmonton's premier restricted free agent

Yes, it is as perplexing as it sounds

Here's a look at the best of what's left in the pool of unsigned veterans