NHL rumors: Are Bruins nearing deal with Oilers for Ryan Whitney?
Are the Bruins getting close to a deal for defenseman Ryan Whitney from the Oilers?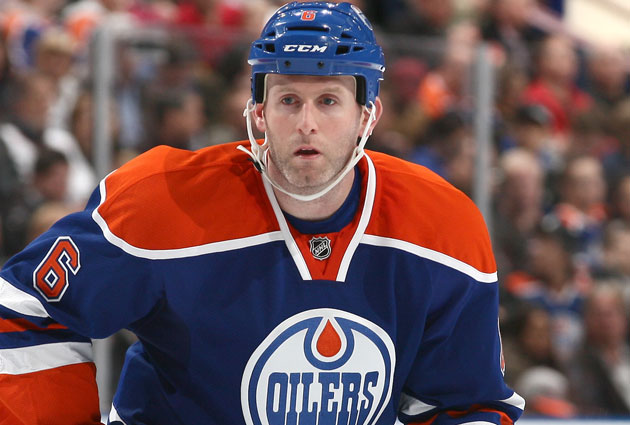 More NHL: Scores | Standings | Odds | Fight-O-Meter | League Leaders | Rumors
Seemingly in response to the Pittsburgh Penguins' recent acquisition of defenseman Douglas Murray, the Boston Bruins appear to be working on getting a veteran defenseman from the Western Conference themselves: Ryan Whitney.
While no deal is done yet, there arose plenty of chatter Wednesday about the possibility of Whitney being traded from Edmonton to the Bruins, Whitney's hometown team as a Boston native. It seemed to begin with Jimmy Murphy of ESPN Boston, who said he was hearing rumblings of a deal in the works. Then came TSN's Bob McKenzie to clarify there is no done deal but the Oilers are certainly looking to move Whitney.
Whitney being on the block is no shock. He is a free agent after this season and has been injury-plagued for a few years in Edmonton. At other times he has been a healthy scratch, something he wasn't too happy about. In 24 games this season he has three goals and seven assists.
While he has been a disappointment in Edmonton with his $4 million cap hit and the relative lack of production/games played, it's not to say Whitney is a completely useless player in the NHL at this point. But he's no game-breaker, either.
Hey, if the Penguins were going to get a slow defenseman the Bruins had to match. That's how an arms race works.
Not to mention the Bruins could use some help getting by right now on the back end; that's the much more practical reason why they would potentially be interested in Whitney.
Adam McQuaid is out for a few more weeks, and Johnny Boychuk is a bit dinged up. It wouldn't be the worst thing to get a little reinforcement with NHL experience because right now the Bruins are relying on some young players.
Would it be the type of move that would put others on notice? No, but sometimes the smaller moves pay their dividends more than you would think. Championship teams in hockey really are teams.
The team tweeted on Monday that Shaw would be re-evaluated in 7-10 days

The Montreal forward was hospitalized after taking a Zdeno Chara slap shot to the head

Tampa Bay is still No. 1 and Vegas is still up there, but a few others are finally catching...
Army filed an opposition to the use of 'Golden Knights' on the last day that it was permitted...

The NBC rinkside reporter is hoping to return in time for the 2018 Olympics

Here's who wade the cut for the 2018 NHL All-Star Game on Jan. 28 at Amalie Arena in Tampa...