NHL rumors: Are Devils eyeing free agent Damien Brunner?
After losing Ilya Kovalchuk to the KHL, the Devils might be zeroing in on free-agent forward Damien Brunner to help fill the void.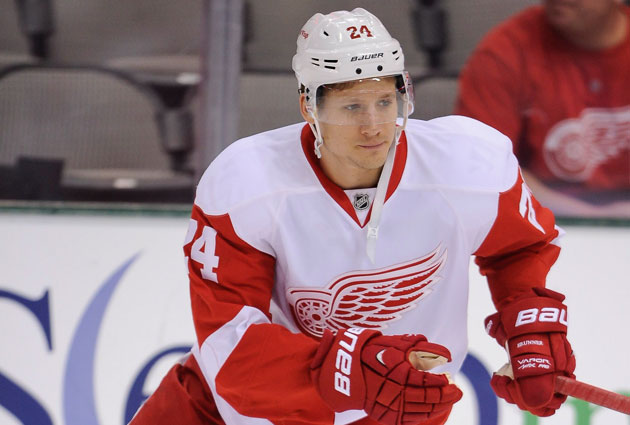 More NHL offseason: Rumors | Top 50 Free Agents | Buyout Tracker | Trades | Transactions
Ilya Kovalchuk's "retirement" from the New Jersery Devils was big in a lot of ways, one of which was to tangibly weaken the Devils on the ice for the upcoming season. It's tough to fill his skates on the top line, even tougher a week after free agency opened in the NHL.
GM Lou Lamoriello has to do something to try to fill the void, and though the options aren't plentiful, there are still options such as Damien Brunner. The Swiss forward who made his NHL debut with the Red Wings this past season remains unsigned and could be the Devils' top target to play on the wing.
Over the weekend, Tom Gulitti of the Bergen Record passed along a report from Switzerland saying the Devils are hot on Brunner's tail, leading one to believe a deal was just a matter of time away.
However things might not be that close at all.
Just talked to Damien Brunner's agent, Neil Sheehy. Wouldn't say which teams he's talked to. Says "nothing imminent" as far as signing.

— Tom Gulitti (@TGfireandice) July 15, 2013
Imminent or not, Brunner does make sense for the Devils at this point. He can play center, but the Red Wings used him on the wing this past season. Not to mention the Devils were already hurting for offense before Kovalchuk left, but now they could really use some firepower. Brunner isn't an elite scorer, but based on his first season in the NHL he can be a guy who can net about 20-25 in a season. He had 12 goals and 44 games with Detroit.
Plus, he'd be quite a bit cheaper than what they were paying Kovalchuk, and they have space now with his $6.67 million cap hit gone. Remember, though, they do still have to re-sign Adam Henrique.
If the Devils are indeed looking to sign a player to help fill Kovalchuk's void, they could do worse than Brunner at this stage. He is still relatively young at 27 and could continue to grow with such little NHL experience under his belt.
Sign up now, and your name can be under the Golden Knights' skates, too!

Pittsburgh coach Mike Sullivan says the team also respects players' right to protest

Some familiar faces are back, but a cap-strapped summer left Chicago a little shakier than...
The Pittsburgh Penguins will put politics aside and visit the White House out of 'respect'...

NBC will reportedly be devoid of NHL game broadcasts between Feb. 7-26

The Winnipeg winger suggests Trump is going after 'the principles the U.S. was founded on'