NHL rumors: Are Flyers in on Roberto Luongo sweepstakes?
One report suggests the Philadelphia Flyers are interested in joining the Roberto Luongo sweepstakes. Is Paul Holmgren at it again?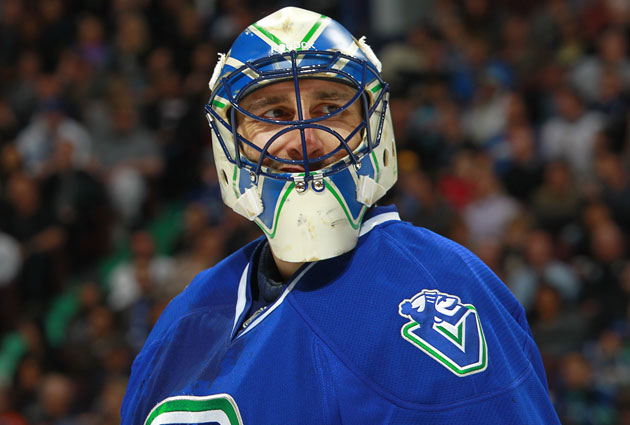 Luongo had a 2.41 GAA and .919 save percentage last season in Vancouver. (Getty Images)
Preview: Team-by-team | Picks | 50 things to watch | Top 50 players | All-NHL
Since Roberto Luongo has been on the trade market, only a handful of teams seemed to be seriously pursuing him. By a handful, we mean two or possibly three: Florida, Toronto and maaaaaybe Chicago.
Welp, a fourth team has entered the picture and while certainly a surprise, this team probably shouldn't be.
It all started with a report from former player-turned-analyst Enrico Ciccone, who tweeted that the Flyers have interest in Luongo. His report was seconded by TSN analyst James Duthie, who is believed to be a close friend of Luongo.

When contacted, Flyers general manager Paul Holmgren quickly shot down the rumors.

"That made me chuckle," Holmgren told the Daily News. "It's safe to say those rumors aren't true. They have no basis or merit."
Say what?
In case you forgot -- and we're sure you haven't -- the Flyers already have one goaltender locked up for the next millennia and for big money to boot: Ilya Bryzgalov. But at the same time it's no secret that Bryzgalov didn't have the best of seasons in his debut campaign with the Flyers and the idea of many more years of that isn't necessarily appealing.
But can the idea of having two burdensome contracts sharing one net be a great idea? Doesn't seem like it but remember, the Flyers will have two buyouts to use next summer if they so choose and Bryzgalov is an early candidate. A $5.67 million cap hit through 2020 doesn't seem so appetizing after Bryzgalov's .909 save percentage and 2.48 GAA last season.
Considering the Flyers are already nearing the $70 million cap, they would have to send some money back to the Canucks in a swap (it's doubtful the Canucks would take advantage of the new rule that allows them to take some of the cap and salary from Luongo's contract). One name that has been mentioned to go to Vancouver is defenseman Nicklas Grossmann.
As to the denial from Holmgren, well, we'll believe it when we see it. He's denied over and over again before about trades -- Jeff Carter seemed particularly upset about it last season -- before making the move. Naturally he won't say anything else.
For the record, Canucks GM Mike Gillis more or less denied it too. It wasn't directly aimed at the Flyers situation, but all situations surrounding his goalie on the block.
Mike Gillis says "nothing" has been happening on the Luongo front. Needs to wait for CBA to ratified first.

— Chris Johnston (@reporterchris) January 9, 2013
We've heard many times that there are more teams in the mix for Luongo than it was believed and perhaps that's true. But we also know that the market isn't very strong for Luongo considering his contract and that he's on the wrong side of 30. It's possible this made its way out there to up the ante for a trade.
The point is, it seems incredibly unlikely to actually happen but with Holmgren and the Flyers, you can never know.
For more hockey news, rumors and analysis, follow @EyeOnHockey and @StubitsCBS on Twitter and like us on Facebook.
It may not be the most effective stickhandling training method, but it's certainly the most...

Steven Stamkos and Tampa Bay are soaring above all, while Montreal continues to dig its own...

Rage is all the rage in Montreal
Buffalo's 20-year-old phenom pulls off the highlight of the night against Vancouver

The North American love affair with Edmonton's superhuman center continues to grow

The defending Western Conference champion Predators are also heating up early in the year