NHL rumors: Blackhawks, Isles talking trade? Forget Frans Nielsen
According to one report, the Blackhawks have been talking with the Islanders about Mark Streit and Frans Nielsen. A second report says no chance the Isles deal Nielsen. Trade season!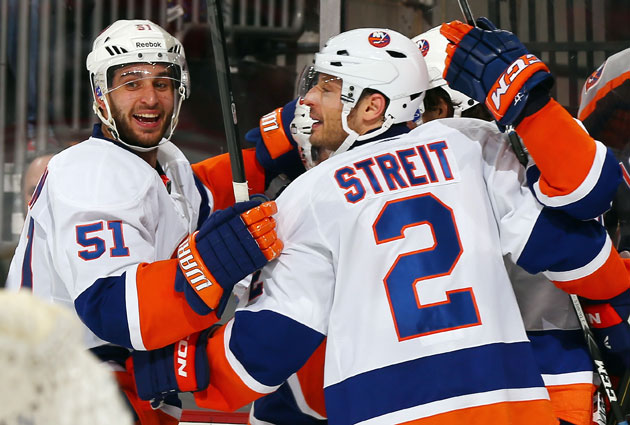 More NHL: Scores | Standings | Odds | Fight-O-Meter | League Leaders | Rumors
The NHL's trade deadline is now only a few days away, so the rumors are ramping up as contenders look for those missing pieces.
One such rumor involves reported talks between the Chicago Blackhawks and the New York Islanders. According to Tim Sassone of the Daily Herald in suburban Chicago, the Hawks have their eyes on not one but two players on the Isles.
A source confirmed to the Daily Herald on Saturday that the Blackhawks and Islanders have been talking multiplayer trade with the centerpiece of the deal being New York center Frans Nielsen.

Lubomir Visnovsky was part of the discussion before the 36-year-old defenseman agreed to a two-year contract extension on Friday worth $9.5 million.

...

The Hawks may be shifting their attention to Islanders defenseman Mark Streit, a power-play specialist who will be an unrestricted free agent after the season. Streit has a cap hit of $4.1 million.
That's a pretty good duo the Hawks are apparently looking at, so what would they be willing to give up? Sassone said it could be 2009 first-round pick D Dylan Olsen and Jeremy Morin, a second-rounder in that '09 draft.
Questions certainly arise as to where this one has come from -- seems to be a new one to the rumor mill this weekend. But it does seem to make some sense, admittedly much more from Chicago's perspective for me than New York's. Chicago would love to be able to bolster the blue line. While Johnny Oduya has worked out pretty well as far as the team's record since he joined, he is not completely reliable.
As to why they would want Nielsen? Besides the obvious response of wondering why they wouldn't want a good centerman with arguably the NHL's most friendly deal, it's because they still haven't found a true second-line center this season. Dave Bolland has filled in admirably, but it's not the spot that he's best suited for. Nielsen could plug that hole and then some. In addition to being an elite player in the shootout, Nielsen is a 40-plus-point player in a full 82-game season.
On top of that, Nielsen is locked in for three more seasons beyond this for $2.75 million per season.
That begs the question, though, of why the Islanders would want to make such a deal? Why would they give in on that Nielsen deal and the bargain that it is for another three more years? Remember, this is a team that is tied for the final playoff spot. The Isles haven't been to the postseason in what feels like forever; why give up two key players with that within reach?
Streit does make more sense considering the Isles captain will be a free agent after this season, but the Islanders have expressed interest in re-signing him the same way that they did with Visnovsky. However, if they can't reach a new deal with Streit in the next couple of days, then perhaps they will be more willing to entertain all the offers for him, including this from Chicago.
Still, I would be surprised if the Islanders were to make a move like this, particularly with Nielsen, but nothing with that team ever shocks me.
For what it's worth -- and I would say it's probably worth a lot -- Arthur Staple of Newsday said he hears no truth at all to the rumors surrounding Nielsen. It just wouldn't seem to make much sense if any from the Islanders' perspective.
Having been asked, I asked a source about Nielsen rumors: "No chance they trade Frans." There you have it. #Isles

— Arthur Staple (@StapeNewsday) March 31, 2013
Trade speculation in the week of the deadline. Nary a dull moment.
The puck didn't go in the net but the skater did!

Another sign that Houston is a potential destination for an NHL relocation
The two teams combined for 111 penalty minutes and five ejections

The veteran Minnesota goaltender has recorded three consecutive shutouts

The historic start for the NHL's newest team has come largely from unprecedented balance in...