NHL Rumors: Blackhawks shopping Dave Bolland
Only days after scoring the game-winning goal in the Stanley Cup Final, Dave Bolland is being linked to trade rumors.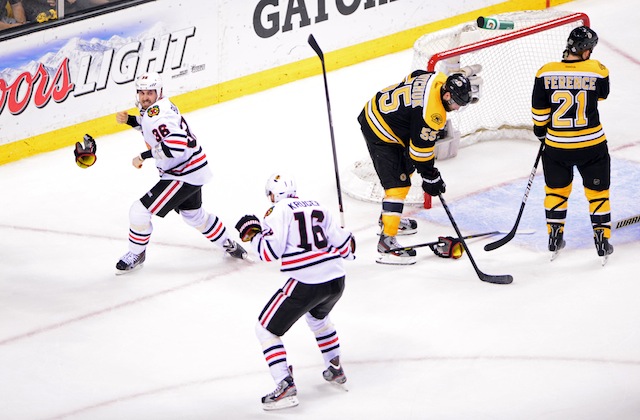 More NHL offseason: Rumors | Top 50 Free Agents | Top 50 Prospects | Mock Draft
On Monday, Dave Bolland was scoring the biggest goal of his NHL career to give the Chicago Blackhawks their second Stanley Cup in four seasons.
On Thursday, word is surfacing that he's being shopped by the Blackhawks in trade talks, according to ESPN's Pierre LeBrun.
Heard from another team that the Blackhawks are shopping center Dave Bolland...

— Pierre LeBrun (@Real_ESPNLeBrun) June 27, 2013
Such is life in the fast-moving NHL.
Bolland scored seven goals to go with seven assists in 35 games this season, which is similar to what he's done over the rest of his career. The Blackhawks typically use Bolland to handle a lot of their tough defensive assignments, and he is often matched up against other team's best players and called on to take defensive-zone faceoffs.
In years past, he's handled that role quite well, but he seemed to take a step back this year as his possession numbers (Corsi rating, a plus-minus statistic that uses total shot attempts) saw a significant drop. That's not exactly a positive sign going forward.
Bolland still has one year remaining on his current contract and will count $3.75 million against the salary cap in 2013-14.
The fact that he just scored the game-winning goal in the Stanley Cup Final is sure to give his name a boost, but it's hard to believe there's an NHL general manager out there that would let that one play overshadow his play this season.
If the Blackhawks do end up trading him, it calls into question what they're going to do at center because the depth would take a bit of a hit once you get past Jonathan Toews.
This will not leave your memory any time soon

Vegas isn't being quiet about its hot start to the NHL preseason

The blue-liners are set for another big push, but Edmonton's rise is hard to ignore in the...
Meanwhile, the Devils' Brian Boyle isn't sweating his recent cancer diagnosis

Limited-time Warriors-colored jerseys are apparently on the way in January

The 32-year-old forward tells the media he expects to be back on the ice for the Devils op...