NHL rumors: Blues want to go for it; are they eyeing Ryan Miller?
The St. Louis Blues have big designs this season and want to 'go for it' this season according to Elliotte Friedman. Could that involve Ryan Miller?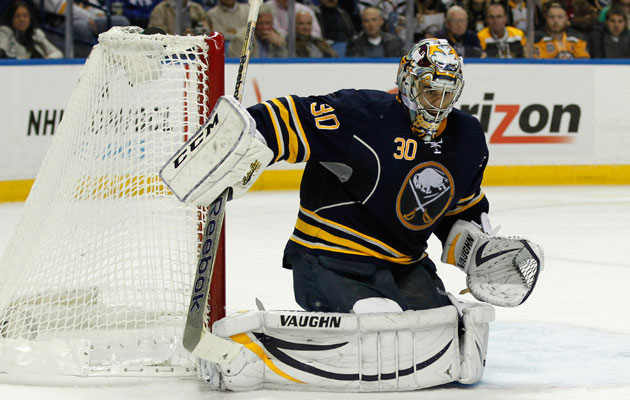 More NHL: Scores | Standings | League Leaders | Odds | Injuries | Power Rankings
When the Buffalo Sabres traded Thomas Vanek to the Islanders on Sunday night, it made matters perfectly clear on which way the Sabres had finally decided to go with their free agents-to-be. It also meant that the future surrounding goaltender Ryan Miller was more clouded than ever.
Vanek and Miller seemed to be in the same exact spot, high-profile, high-priced veterans with expiring deals. At this point it would seem very unlikely that Miller would return to Buffalo -- though it should be noted he still hasn't publicly closed the door on that thought -- and it becomes a question of can Buffalo trade him and if so to what team?
In all honesty, the Islanders would have been an ideal spot with their struggles in net but Vanek cost them enough apparently. One team that could be interested? Believe it or not, the St. Louis Blues. That's according to the venerable and trustworthy Elliotte Friedman of the CBC.
Speaking on Sportsnet 960 on Monday, this is what Friedman had to say.
"I think the St. Louis Blues were looking at Vanek. I wouldn't be surprised if they're looking at Miller. I'm hearing that St. Louis is a team that's going to be interesting, that's a group that wants to go for it this year."
Now noting the language, Friedman doesn't necessarily report that the Blues are thinking about it, just that he wouldn't be surprised if they were but considering the source that's well-founded speculation.
Still, it leaves me wondering a lot. First off with Jaroslav Halak healthy and playing well, why would the Blues want Miller? It's great to have two good goalies and all and especially with Halak and Brian Elliott scheduled to be free agents after this season. But it doesn't seem to be a huge need for the Blues, Halak has a .917 save percentage this season.
Equally pressing is how the Blues could even fit Miller in under the salary cap. It would be difficult considering they have less than $1 million in free space according to CapGeek and Miller had a $6.25 million cap hit for the rest of this season. They would have to do a lot of shuffling to fit that onto the budget.
In other words, I can't see how it could really happen but it gets the Miller rumor mill churning here in the early season with Buffalo already in sell mode.
Sign up now, and your name can be under the Golden Knights' skates, too!

Pittsburgh coach Mike Sullivan says the team also respects players' right to protest

Some familiar faces are back, but a cap-strapped summer left Chicago a little shakier than...
The Pittsburgh Penguins will put politics aside and visit the White House out of 'respect'...

NBC will reportedly be devoid of NHL game broadcasts between Feb. 7-26

The Winnipeg winger suggests Trump is going after 'the principles the U.S. was founded on'