NHL rumors: Caps' Martin Erat wants trade: 'Time for me to move on'
Martin Erat has requested a trade for the second time in less than a year, confirming his request to be traded by the Caps: 'It's time for me to move on.'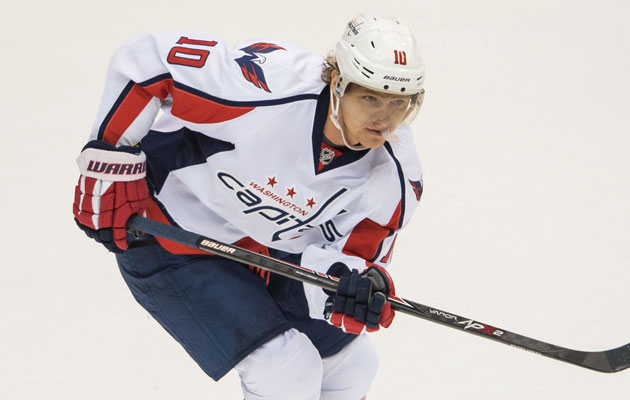 More NHL: Scores | Standings | League Leaders | Odds | Injuries | Power Rankings
Less than half a season after demanding a trade out of Nashville, forward Martin Erat has asked for another trade, this time from the Washington Capitals.
A report surfaced out of the Czech Republic about Erat venting his frustration with washington and asking for a trade. He didn't shy away from it on Monday, telling the Washington media the same thing. He wants out and fast.
Martin Erat confirmed that he asked for a trade. #Caps

— Adam Vingan (@AdamVingan) November 25, 2013
Martin Erat: "Since day one, I didn't get the chance here. … It's time for me to move on." #Caps

— Adam Vingan (@AdamVingan) November 25, 2013
With that, surely the general managers across the league are lining up (*sarcasm font off).
That's now twice in the span of seven months that Erat has requested a trade and in that time his value hasn't exactly gone up. If the requests weren't concern enough, his production has been down (although he notes that his playing time has been a major culprit) while his salary remains pretty high at $4.5 million.
In other words, good luck to Caps GM George McPhee in getting a good return value for Erat, especially now that teams know he wants out, further reducing McPhee's leverage in theory. The Caps might have to eat salary to give Erat what he wants, though McPhee says that won't happen. Either way, McPhee is willing to make a trade happen for Erat.
"Marty doesn't feel like he fits in here," McPhee said Monday. "If you don't feel like you fit in, we'll try to accommodate you."
This seems like a good time to remind you that the Capitals surrendered top young prospect Filip Forsberg to the Preds for Erat and Michael Latta, who has split time between the AHL and NHL this season. It was hard to like that trade from the start for the Caps. Now? Well, let's just say you can't win 'em all.
Erat, 32, has no goals and six assists in 23 games this season, averaging 13:00 of ice time per game. Dating back to last season he has just one goal and nine total points in 32 games for Washington. Safe to say it hasn't worked out well for the guy who regularly put up around 50 points for years.
The puck didn't go in the net but the skater did!

Another sign that Houston is a potential destination for an NHL relocation
The two teams combined for 111 penalty minutes and five ejections

The veteran Minnesota goaltender has recorded three consecutive shutouts

The historic start for the NHL's newest team has come largely from unprecedented balance in...