NHL rumors: Cory Schneider's agent wants Roberto Luongo resolution
Coming into the season, Roberto Luongo was supposed to be No. 2 while waiting to be traded. Now he's No. 1 and still hasn't been traded. Cory Schneider's agent wants a resolution already.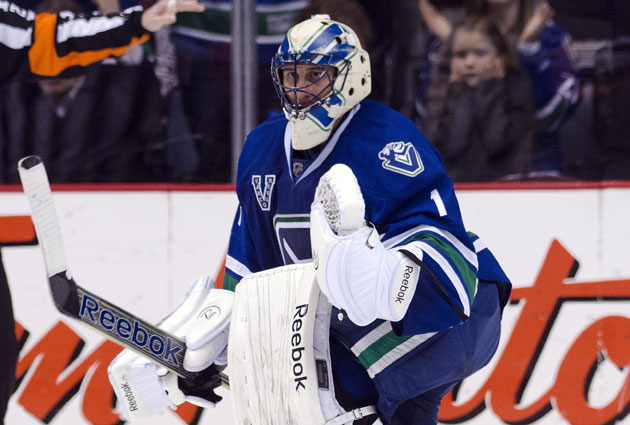 Luongo has started the last four games and the Canucks have earned seven points. (Getty Images)
More NHL: Scores | Standings | Odds | Fight-O-Meter | League Leaders | Rumors
We knew coming into this season that the Roberto Luongo situation was going to be a major story in the early going. We just didn't know it was going to go like this.
The former Vezina Trophy finalist who had been bumped to the No. 2 spot in Vancouver behind Cory Schneider last season and more or less asked to be traded, has since regained his No. 1 spot for the Canucks, if such a title exists these days. He has been excellent, and the Canucks have been winning as Luongo has made four straight starts.
His .940 save percentage and 1.53 goals against average tell you how good he has been. It has begged the question from a lot of people: Do they still really have to and/or want to trade Luongo?
This much is clear: Schneider's agent, Mike Luit, wants to see Luongo traded already. From the Vancouver Sun:
"Our concern is we were hoping that this would be the year that Cory would play 75 percent of the games," Liut said in a phone interview Monday from his Michigan office.

"We are only interested in resolution, we are not going to get into the finger-pointing game and to that end you have to take a step back and you have to give them latitude to make a business decision."

As much as Liut would like a quick resolution to the matter, he's not entirely convinced that's going to happen.

"Is Roberto going to be there all year?" Liut said. "It's certainly looking like he's going to be or both will be there until the (April 3) trade deadline. What happens after that, we'll have to react to that. But my concern is in the obvious, we have a 48-game season and you've got two goalies of their stature.

"Roberto is established, everybody knows what he can do, and you've got another one in Cory, who hopes to get an opportunity to play (as a No. 1) for the first time, and we've got this fractured season."
There are a few interesting bits in there. First is the idea of Schneider's agent suggesting Luongo won't be traded for another two months at the earliest.
But the most interesting aspect to me is the idea that Liut and Schneider were under the impression that Schneider was going to get the bulk of the starts. There seems to be a suggestion that he was owed those starts.
Well, if you're coach Alain Vigneault, it has been a tough decision thus far. Yes, Schneider played very well last season and earned the right to come into this season as the No. 1 guy, but that doesn't mean it should stay that way. Especially when you have a talented backup to push you, you have to perform, hold onto your spot.
It's not like Schneider hasn't been given a fair shot. He has started four games this season and has an .897 save percentage with a 3.13 GAA. The difference between he and Luongo in the early going is stark. Luongo is starting for a reason, and it's a lot more than trying to show off his trade value; rather, he has been the better goaltender. In fact, he's been one of the top few across the entire league to start the season. The Canucks are in the business of winning games, and right now Luongo gives them the best chance. It's that simple.
That's not to say that GM Mike Gillis won't continue to explore his options and wait to find his price. He will, the long-term plans in Vancouver likely haven't changed one bit despite their respective starts to this season, Schneider is the goalie for the future.
To that end, Ben Kuzma of The Province suggests that with Luongo's strong play so far, it's swinging the leverage back to Gillis' favor. That's especially the case when you looking at Luongo's preferred destination of Florida.
The Florida Panthers also have a goaltending problem with Jose Theodore and Scott Clemmensen and rank 29th in goals allowed per game. The Capitals are 27th.

The Panthers are in Winnipeg on Tuesday, so why not continue the tour? Let's see. How about third-line centre Shawn Matthias, tough blueliner Keaton Ellerby and Clemmensen for Luongo? The leverage pendulum may have swung back in the favour of Gillis.
If Florida GM Dale Tallon wasn't all that interested before, perhaps Kuzma is right and he will be now. The Panthers' goaltending wasn't bad at all last season, but Theodore and Clemmensen have struggled mightily at the onset this season.
No matter how much Schneider's agent (and perhaps Schneider and Luongo themselves) want this whole situation to be wrapped up already, it doesn't have an end in sight right now, especially if Luongo is going to keep playing the way he has been this season.
For more hockey news, rumors and analysis, follow @EyeOnHockey and @StubitsCBS on Twitter, subscribe to our YouTube account and like us on Facebook.
The NHL said the Flyers defenseman was 'reckless' and used 'excessive force'

'How you gon' do that hockey?'
The puck didn't go in the net but the skater did!

Another sign that Houston is a potential destination for an NHL relocation

The two teams combined for 111 penalty minutes and five ejections