NHL Rumors: Could Ray Emery be a fit in Philadelphia?
After buying out Ilya Bryzgalov, the Philadelphia Flyers need to add another goalie. Could Ray Emery be an option in free agency?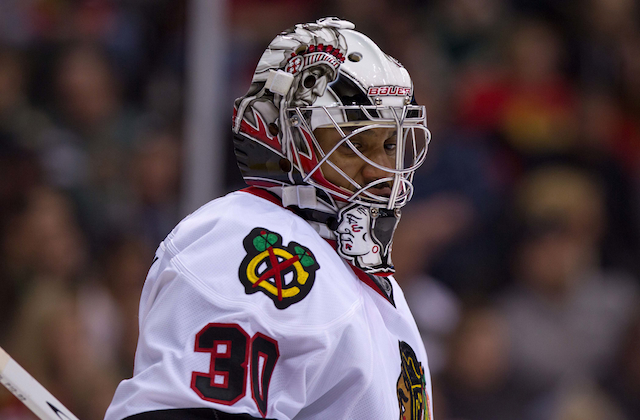 More NHL offseason: Rumors | Top 50 Free Agents | Top 50 Prospects | Mock Draft
Some things never change in the NHL. For example: The Philadelphia Flyers' goaltending situation always being an unsettled mess.
After announcing their plans to buy out out free-agent bust Ilya Bryzgalov on Monday, the Flyers are going to need to bring somebody else in to help man the position.
As of now the only NHL goalie under contract and on the roster is Steve Mason, and based on his performance over the past few years in Columbus, the Flyers might need a better plan than him simply stepping into their starting role.
One name that's surfaced as a potential option is Ray Emery, who spent the past two seasons as the backup to Corey Crawford for the Stanley Cup champion Chicago Blackhawks.
From the CBC's Elliotte Friedman in his most recent 30 thoughts column:
17. When Philadelphia signed Ilya Bryzgalov two years ago, Snider made it very clear he was tired of the theory that you could win without spending copious dough in net. How does he feel now? There is a very legit -- and reasonably cost-effective -- solution: Ray Emery. As his comeback began in 2011, Emery said Philly would be his first choice. Some of those Flyers are gone, but assistant GM John Paddock remains. The goalie was hugely appreciative that Paddock took a chance on him after what happened in Ottawa. Just something to watch for.
Something to watch for, indeed.
Emery previously played for the Flyers during the 2009-10 season, appearing in 29 games after he spent the 2008-09 season in the KHL.
Since returning to the NHL, he's posted a .909 save percentage in 94 games. Of the 64 goalies who have appeared in at least 50 games since then, that would place him 40th in the NHL. He had .922 save percentage in 21 games with the Blackhawks this past season.
He's probably not the ideal solution in net, but the Flyers don't really have many options right now. They were involved in the Jonathan Bernier trade talks but would not give up Brayden Schenn or Sean Couturier (per Friedman) as the Kings reportedly requested.
Veteran Niklas Backstrom has already re-signed with Minnesota, and impending free agent Mike Smith will probably be out of their price range given their salary cap situation. 
The Flyers, even after using their cap compliance buyouts on Bryzgalov and Danny Briere, have just $4 million in cap space.
Rage is all the rage in Montreal

Buffalo's 20-year-old phenom pulls off the highlight of the night against Vancouver

The North American love affair with Edmonton's superhuman center continues to grow
The defending Western Conference champion Predators are also heating up early in the year

The Oilers' young star remains seriously unfair

David Kelly, a Toronto-born hockey analyst, has strong advice for Edmonton vs. Chicago game...