NHL rumors: Daniel Alfredsson to leave Sens, likely sign with Wings
Daniel Alfredsson is coming back for another season but it likely won't be with the Sens. Multiple outlets reporting he's leaving Ottawa.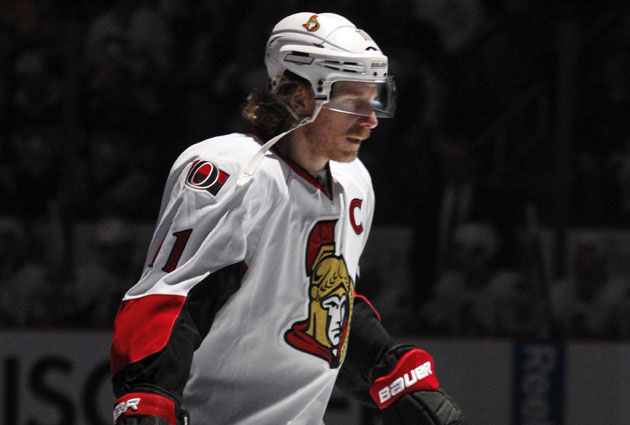 More NHL offseason: Rumors | Top 50 Free Agents | Buyout Tracker | Trades | Transactions
When Daniel Alfredsson announced that he was coming back for another season, there was hardly a second thought that he wouldn't play for the Ottawa Senators.
Well, it looks like he won't be playing for the Ottawa Senators. We will find out for sure soon enough when free agency opens but right now multiple people are reporting Alfie will leave the only team he has played for, according Bruce Garrioch.
Sources say Daniel Alfredsson has informed the Senators he will not be returning to Ottawa. He will sign with BOS or DET #Sens #ottnews

— Bruce Garrioch (@SunGarrioch) July 5, 2013
To add on a little more, Darren Dreger said he doesn't expect Alfredsson to return Ottawa either and that the Red Wings are the likely landing spot.
That's ... not how it was supposed to work out. There's one word to describe it: shocking.
Alfredsson looked like he was going to be one of those players who stayed with the same team his entire career. He has played 1,178 games with 426 goals and 682 assists, the face of the franchise since he came in as a rookie in 1995-96.
Now he's going to have what's likely a farewell tour in another sweater. The idea just seems wrong but it's the nature of the business that not even Alfredsson could pass up.
To make it just that much more interesting, whether it's Boston or Detroit, he will be in the same conference as Ottawa next season, so he'll get a few chances to return to Ottawa. Seeing that reaction will be something.
The 40-year-old center is returning to the Wild after a successful run in Pittsburgh

Edmonton locks up its 21-year-old RFA a month after McDavid's historic extension

Even with a new coach and added veteran help, the Canucks have a long road ahead
Unlike expansion teams before them, the Knights have enough talent to entertain right away

Brian Lawton says he 'would not be surprised' if Boston deals its young star to end contract...

It turns out Phil does love his hot dogs, especially when they're in a Stanley Cup