NHL rumors: Ducks squash Jonas Hiller rumors: 'not going anywhere'
Jonas Hiller has been suggested to be available in trade. Ducks GM Bob Murray made it very clear on Monday that is not the case.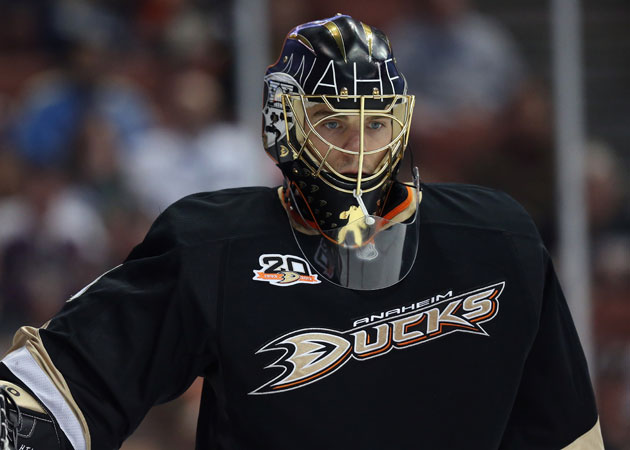 More NHL: Scores | Standings | League Leaders | Odds | Injuries | Power Rankings
Remember those rumblings earlier this season that the goaltending-heavy Anaheim Ducks might look to trade Jonas Hiller? Good, now completely forget them. A move that never seemed to make a ton of sense won't be happening.
Ducks GM Bob Murray has heard enough of these rumors and decided to set the record perfectly straight with Pierre LeBrun of ESPN.com on what his intentions are with Hiller regarding the trade deadline.
"There's not a chance in hell that I'm moving Jonas Hiller," Murray told ESPN.com on Tuesday evening. "I'm tired of hearing about the rumors, I can tell you Jonas is not going anywhere."
The case for trading Hiller? He is about to become an unrestricted free agent and the Ducks have plenty of depth behind him with Viktor Fasth, Frederik Andersen and John Gibson waiting in the wings. Why risk letting him walk for nothing?
The answer to that is pretty clear: because the Ducks are a very viable Stanley Cup contender this season and Hiller is playing lights out.
Hiller is an absurdly good 23-4-1 this season even if his 2.34 GAA and .914 save percentage are pedestrian (not bad by any stretch but not near the league leaders either). The Ducks have won each of the last 14 games in which Hiller started. That's why you risk it.
The Ducks have five more points than any team in the NHL right now with a 35-8-2 mark. Currently they are riding a seven-game win streak and have won 17 of the last 18. If it ain't broke, you don't fix it.
The 40-year-old center is returning to the Wild after a successful run in Pittsburgh

Edmonton locks up its 21-year-old RFA a month after McDavid's historic extension

Even with a new coach and added veteran help, the Canucks have a long road ahead
Unlike expansion teams before them, the Knights have enough talent to entertain right away

Brian Lawton says he 'would not be surprised' if Boston deals its young star to end contract...

It turns out Phil does love his hot dogs, especially when they're in a Stanley Cup