NHL rumors: Is Devils' Ilya Kovalchuk going to try to stay in KHL?
Ilya Kovalchuk isn't in any rush to return to New Jersey.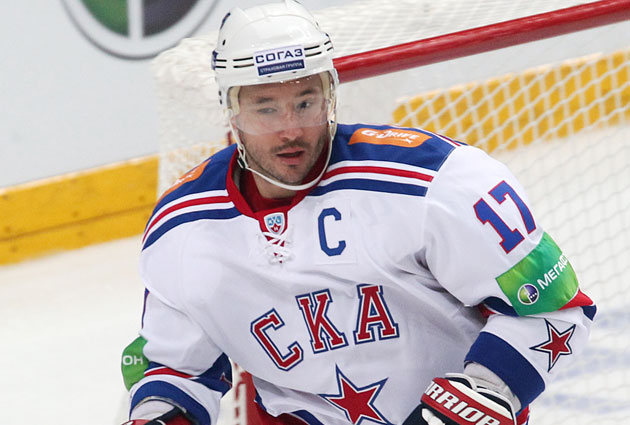 Kovalchuk had 37 goals, 46 assists in 77 last season in New Jersey. (Getty Images)
Season preview: Team previews | Expert picks | 50 things to watch | Top 50 players
Ilya Kovalchuk doesn't seem to be in any rush to return to New Jersey.
The Devils star who headed to Russia to play for SKA St. Petersburg during the lockout is reportedly interested in staying in Russia. While most overseas players are already back in North America or are at least on their way, Kovalchuk doesn't appear to have packed his bags.
From Sovetsky Sport's Genadi Boguslavski:
Kovalchuk will play today in Kazan. Some sources close to SKA say he could stay in Russia #Devils

— Genadi Boguslavski (@GenadiB) January 8, 2013
Just to add an extra thick layer of intrigue, Kovalchuk didn't exactly shoot the idea down. In fact, it seems to be quite the opposite, he gave serious credit to the idea that he might try to stay in the KHL.
Kovalchuk says, 'I will need to read the new agreement' before he decides what to do next. So there... #NJDevils

— Slava Malamud (@SlavaMalamud) January 8, 2013
Maybe Ilya Bryzgalov was right after all.
The Flyers goaltender went over to the KHL to play during the lockout. Early on in his return to his native land, he hypothesized that some players might stay in the K instead of returning to the NHL. Similarly, Alex Ovechkin suggested he might stay in the KHL if the new CBA wasn't good enough for the players.
Neither Bryzgalov nor Ovechkin, who is already back in Washington, will be staying, but others seem to be trying. But that doesn't mean some won't try.
First there was Islanders defenseman Lubomir Visnovsky. He announced that he's going to stay in the KHL with his Slovakian-based team. That wasn't a great surprise as Visnovsky had already tried once to get out of playing for the Islanders -- whether he says that's the reason or not, it sure looks that way.
Now there's Kovalchuk.
Visnovsky is one thing. He only has one season left on his contract and is getting up there in age. He put up some huge offensive numbers a couple of seasons ago with the Ducks but he's not exactly a star player at this point. Kovalchuk is a whole other animal.
First of all he's a huge star, and after the Devils lost Zach Parise to free agency, he figured to be an even bigger piece of the Devils' picture. Secondly, he has a massive contract with the Devils. His current deal won't expire until 2025 and all the while he has a $6.67 million cap hit to go along with it.
It's because of that contract that it's very unlikely he'll stay with St. Petersburg. Not because of the money -- a KHL team could match the numbers -- but because of the simple fact that he has a legal contract with a team in the NHL.
This seems like an opportune time to revisit what NHL Deputy Commissioner Bill Daly told Newsday's Arthur Staple about the Visnovsky situation.
"We have an agreement with the KHL that would preclude Mr. Visnovsky from continuing to play in the KHL once the lockout is officially lifted," Daly said. "I assume that agreement will be respected."
Just replace the name Visnovsky with Kovalchuk and you see where this is headed.
There was a reason people couldn't help but scoff at the notion when Ovechkin suggested he might stay in the KHL. It's because of this agreement between the rival leagues to respect other contracts that came up during the Alexander Radulov brouhaha. If you have a valid contract in either league then it must be honored. Any contracts they signed during the lockout with other teams were provisional, everybody knew that.
I'd be shocked to see Kovalchuk stay in the KHL after this. Remember, the lockout isn't actually over yet, so perhaps Kovalchuk figured he'd stay as long as he could in Russia before coming stateside, even if the players were told to come back already.
Dmitry Chesnokov of Puck Daddy reports that Kovalchuk said as much, that he's waiting for the deal to be completely done and just staying in shape.
There is just too big a reason to keep things friendly right now between the NHL and KHL: the 2014 Olympics. Sure, the KHL won't be running the hockey in Sochi, the IIHF will, but the relations between the two leagues will absolutely have a bearing on whether the NHL agrees to send its players to Russia for the Games.
Likely for that reason as much as any other, the KHL has said it will stick by the agreement and honor the NHL contracts of players.
Meanwhile, we have an interesting little battle setting up over one heck of a player.
For more hockey news, rumors and analysis, follow @EyeOnHockey and @StubitsCBS on Twitter and like us on Facebook.
The expansion Golden Knights officially moved into first place in the NHL on Sunday

The former Boston Bruin was the first black player to play in the NHL

Inclement weather led to the Charlotte Checkers and Bridgeport Sound Tigers playing in front...
The NHL chose the Detroit rocker as its All-Star Game entertainment and not everyone is th...

NHL fans from all over seem to agree on one thing: Hating Kid Rock

The team tweeted on Monday that Shaw would be re-evaluated in 7-10 days