NHL rumors: Is P.A. Parenteau on the trade block in Colorado?
P.A. Parenteau made a somewhat surprising appearance in the rumor mill on Monday, especially after the Avs forward was announced as a healthy scratch for Monday night.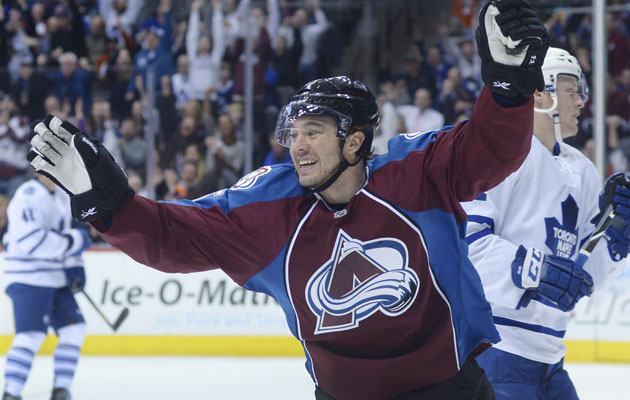 More NHL: Scores | Standings | League Leaders | Odds | Injuries | Power Rankings
Apparently we have a new name to welcome to the rumor mill in the NHL: Colorado Avalanche forward P.A. Parenteau.
When the Avs take on the Stars in Dallas on Monday night, Parenteau won't be the lineup, a healthy scratch for coach Patrick Roy. That just so happened to coincide with some buzz that Parenteau is available in trade talks, as mentioned by Renaud Lavoie of TVA.
One name floating for a possible trade: Avalanche PA Parenteau. A few teams called and heard Canadiens are interested. We'll see.

— Renaud Lavoie (@LavoieRenaud) January 27, 2014
That was before Lavoie was aware of Parenteau's scratch, which he later noted was an "interesting" development. That should stir the pot pretty well.
Parenteau is in the second year of a four-year contract he signed with the Avalanche that pays him $4 million annually, not a tremendously burdensome contract. But he hasn't had the same type of success this season with nine goals and 17 assists in 41 games, below his pace from the previous two seasons. But the fact that he is signed for another couple of seasons to a reasonable deal could make him more attractive should the Avs go that route. It would be more akin to a "hockey deal" than a deadline rental deal.
Moreover, Parenteau has been out of a top-six role since recently returning from an MCL sprain, playing on the third and fourth lines the last couple of games. The Avalanche have plenty of skilled and young forwards that it might not be easy for Parenteau to work his way back into that mix.
It would seem somewhat odd for a team in Colorado's position -- third in the Central Division -- to trade a player like Parenteau but if he can help them upgrade the defense, which still needs some work, then maybe it's worth it. He could be an attractive option for any one of the number of teams looking for offensive help and the Canadiens fit that mold. It doesn't hurt that he is originally from Quebec, either.
The rumors went a bit further on Monday evening when it was reported that -- get this -- the Habs were offered and turned down a deal that would have sent Parenteau to Montreal for Rene Bourque. Straight up.
#Habs turn down trade that would have seen Bourque go to #Avs for Parenteau. #NHL

— Louis Jean (@LouisJean_TVA) January 27, 2014
Believe that one if you will -- I'm skeptical and so is Adrian Dater -- as the only thing more inexplicable than the reported offer is that Montreal would decline but clearly the mill has gone from dormant to full speed in a matter of a few hours on Parenteau.
According to CapGeek, Parenteau doesn't have any no-movement clauses on his contract, so that wouldn't be an obstacle if it came down to it.
The team tweeted on Monday that Shaw would be re-evaluated in 7-10 days

The Montreal forward was hospitalized after taking a Zdeno Chara slap shot to the head

Tampa Bay is still No. 1 and Vegas is still up there, but a few others are finally catching...
Army filed an opposition to the use of 'Golden Knights' on the last day that it was permitted...

The NBC rinkside reporter is hoping to return in time for the 2018 Olympics

Here's who wade the cut for the 2018 NHL All-Star Game on Jan. 28 at Amalie Arena in Tampa...