NHL rumors: Islanders are not in on Roberto Luongo sweepstakes
The Vancouver Canucks continue to try to trade Roberto Luongo but another team seems to be out of the hunt: the New York Islanders.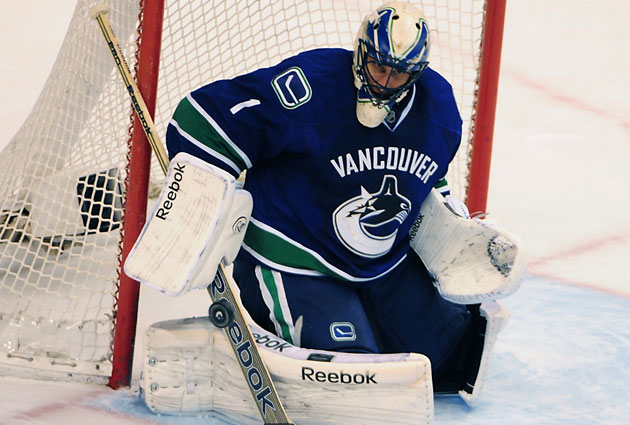 More NHL offseason: Rumors | Top 50 Free Agents | Top 50 Prospects | Mock Draft   
The Roberto Luongo sweepstakes are ongoing after more than a year now and we still don't seem closer to an actual deal taking place. The problem is a lack of suitors; not a ton of teams need to fill No. 1 goaltender positions right now and even fewer have a need to fill it with a contract as cumbersome as Luongo's.
One of the teams that has become popular as a possibile destination for Luongo lately among those speculating was the New York Islanders. They still haven't signed Evgeni Nabokov and thus have an open spot for a No. 1 netminder, not to mention Luongo began his NHL career with the Isles.
You can forget about it as Brett Cyrgalis of the New York Post reports.
League source says #Isles not one of the teams inquiring about Luongo. That certainly doesn't mean they won't try to upgrade in net

— Brett Cyrgalis (@BrettCyrgalis) June 26, 2013
So it would seem that you can take the Islanders off the potential suitors list, joining the Maple Leafs after their acquisition of Jonathan Bernier. It had previously been suggested by Bob McKenzie that the Islanders might be interested.
The question is what teams are left for Luongo to be traded to? GM Mike Gillis said it's unlikely Luongo returns next season but where would he go? The Flyers have a need for another goalie but GM Paul Holmgren already said they won't be in on Luongo, either. Luongo has been open about wanting to play for the Florida Panthers again but they have Jacob Markstrom ready to take over and would probably be very reluctant to take on the contract as well.
Maybe at some point the Canucks do have to consider biting the bullet and using one of their two amnesty buyouts on Luongo, either this year or next year.
Luongo's contract runs through the 2022 season with an annual cap hit of $5.33 million. He had a 2.56 goals against average and a .907 save percentage this season in 20 games, serving as the backup to Cory Schneider.
The Pittsburgh Penguins will put politics aside and visit the White House out of 'respect'...

NBC will reportedly be devoid of NHL game broadcasts between Feb. 7-26

The Winnipeg winger suggests Trump is going after 'the principles the U.S. was founded on'
League gets excited about exhibition matches in Beijing and Shanghai

NHL players are still disappointed they won't be going to skate in PyeongChang

With Artemi Panarin in the mix and a Vezina winner headlining the defense, Columbus can be...