NHL rumors: James Reimer will ask for trade from Toronto after season
After ascending to the Maple Leafs starter last season, James Reimer is back to backup this season and it might lead to a 'respectful' trade request this summer.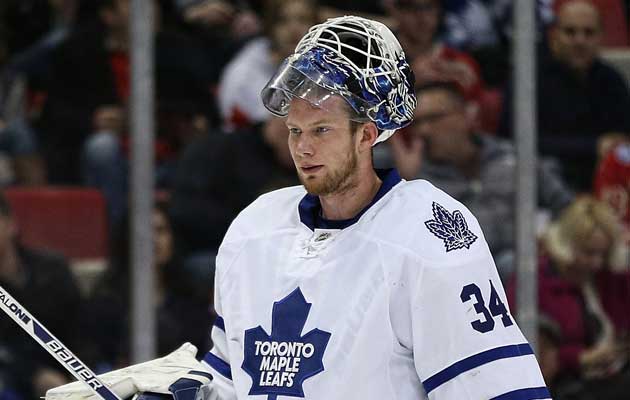 More NHL: Trades | Scores | Standings | League Leaders | Odds  | Power Rankings
James Reimer has had an interesting run in Toronto. That run could come to an end in the not-too-distant future.
After he led the Maple Leafs to the playoffs last season, the Leafs brought in Jonathan Bernier and he has been the starter this season, not Reimer (he has done well with it so hard to complain there).
The relationship with Reimer and the Leafs took another rocky stop this week when Reimer was thrust into action with an injury to Bernier. The Leafs have lost three games in a row starting to increase the panic in Toronto and after the loss to Detroit on Tuesday, coach Randy Carlyle said that Reimer was "just OK" that night. Reimer didn't agree.
It all leads to the latest, which is a report from Darren Dreger on TSN that after this season Reimer will ask for his way out of town.
Well, Randy Carlyle has really done it now. @DarrenDreger says James Reimer will "respectfully request a trade" this summer.

— David Shoalts (@dshoalts) March 20, 2014
While based on the timing it might seem like it has to do with the relatinship with Carlyle (and who know, that might play a part) but The Score had a little more from Dreger citing the biggest factor; playing time.
I think that's very unlikely for the reason that you just pointed out: he wants to be a starter again. He's more or less uncomfortable with his role as a backup, he wants to be respectful obviously to the Toronto Maple Leafs because he loves being a member of the Toronto Maple Leafs, but he also fondly recalls his time as a starter with this team -- an accidental starter if you want to go back to the 2010-11 season -- so I believe that in the off-season James Reimer will respectfully request a trade and look to for an opportunity to once again be a starting goaltender as a restricted free-agent.
If that's his aim there might not be a ton of options. We saw a lot of goalie movement at the deadline and teams shored up their nets at that time. The intriguing option, though, will remain Winnipeg. It's Reimer's home town and while Ondrej Pavelec is still signed for a couple seasons, he has been one of the worst goalies statistically in the NHL for a couple of years now.
Reimer already plays behind a less-than ideal defense and performs well, he could make the Jets a lot more intriguing if that were to happen. But that's just idle speculation.
The 2013 season was the only season that Reimer has been the No. 1 goalie in Toronto as he played in 33 of 48 games with an impressive .924 save percentage. This season it has been tougher behind Bernier with a .911 save percentage in 30 games.
NBC will reportedly be devoid of NHL game broadcasts between Feb. 7-26

The Winnipeg winger suggests Trump is going after 'the principles the U.S. was founded on'

League gets excited about exhibition matches in Beijing and Shanghai
NHL players are still disappointed they won't be going to skate in PyeongChang

With Artemi Panarin in the mix and a Vezina winner headlining the defense, Columbus can be...

The league's crackdown on faceoff infractions and slashing penalties isn't without some cr...