NHL rumors: Jared Cowen would like Travis Hamonic-type contract
Sens restricted free agent defenseman Jared Cowen remains unsigned and it's being reported he would like a deal similar to Travis Hamonic's.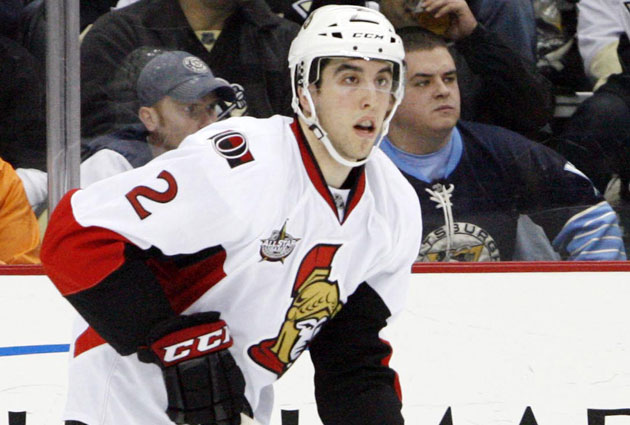 More NHL offseason: Rumors | Top 50 Free Agents | Buyout Tracker | Trades | Transactions
While the big names such as Alex Pietrangelo and Nazem Kadri have drawn most of the attention among those RFAs who remain unsigned, the Ottawa Senators have their own in defenseman Jared Cowen. As of now he's still without a deal for next season, something that obviously needs to be addressed before next season.
So what's the hold up at this point, why isn't a deal getting done? Besides the obvious of "they can't agree on money," what specifically? Perhaps it's what Cowen is asking for. From Bruce Garrioch of the Ottawa Sun:
While there was talk on the weekend, sources say the 22-year-old Cowen and the team aren't close to a deal, and more work is needed in order to get a contract in place before training camp opens Sept. 11.

If it's a long-term deal, some believe Cowen's camp would like something close to the seven-year, $27-million deal that defenceman Travis Hamonic signed with the New York Islanders. He makes an average of $3.85 million per year.
That's a tough comparable. On the one hand, it's very hard to justify giving Cowen what Hamonic got because Hamonic has twice the resume that Cowen does at this point. So far Cowen has played just 90 NHL games after missing almost all of last season with an injury. He has six goals and 12 assists in about 19 minutes per game in his short career. Hamonic meanwhile has 10 goals and 50 assists in 183 games while logging an average of three minutes more per game. In comparison, there's no way that Cowen should get Hamonic money.
On the other hand, most everybody looked at that Hamonic deal and saw that once again Garth Snow had managed to sign a good player to a very team-friendly deal, something he has become very good at doing. Just because Snow as able to get Hamonic in at a good price doesn't mean that others will have to follow suit. Snow did the same with John Tavares while everybody else is getting big bucks.
Still, that does seem like it would be a lot for Cowen's services, particularly with the Senators being a tight budget team as owner Eugene Melynk said earlier this summer. It would likely be best to go the short bridge route at this point. It might cost a little more in salary but 90 games just isn't enough of a sample size yet.
Los Angeles isn't rushing to sign the 45-year-old forward any time soon

The University of Denver star and Hobey Baker Award winner is drawing interest

Intrigue is high in Arizona after a wild offseason, but expectations should still be tempe...
Players are set to give personalized messages for Adidas' former hockey equipment brand

The 40-year-old center is returning to the Wild after a successful run in Pittsburgh

Edmonton locks up its 21-year-old RFA a month after McDavid's historic extension