NHL Rumors: Jaromir Jagr interested in joining Devils?
According to a report out of the Czech Republic, Jaromir Jagr was in New Jersey on Thursday 'inspecting' their arena.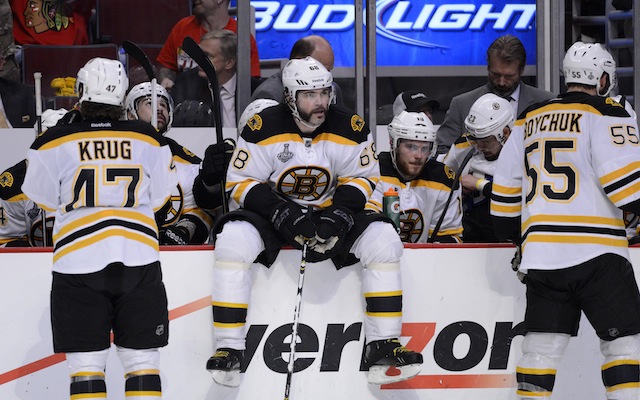 More NHL offseason: Rumors | Top 50 Free Agents | Buyout Tracker | Trade Tracker
We last heard from Jaromir Jagr on Tuesday of this week when he posted a strange video on his Facebook page. In it, he said that he would have an update for us on Wednesday and that when it comes to his NHL future he "sees a lot of black."
Well, it's now Friday and we've yet to hear an update from Jagr and his search for a new NHL team. What we do have is a report from Czech media outlet Isport.cz that Jagr was actually in New Jersey on Thursday and "inspecting" the Prudential Center. The Rangers and Flyers, two teams that Jagr has previously played for in the NHL, were also mentioned as possible destinations.
If Jagr is going to continue his career in the NHL, the Devils seem like a natural fit, at least as far as team needs are concerned. New Jersey lost a ton of offense this season with the departures of David Clarkson (free agency) and Ilya Kovalchuk ("retirement") and Jagr is the best scorer left on the free agent market.
There have been rumors that the Devils have been interested in former Detroit Red Wings forward Damien Brunner, but there have been no new developments on that front.
Jagr, 41, scored 16 goals to go with 19 assists in 45 games last season split between the Dallas Stars and Boston Bruins. He didn't score a goal in the playoffs for the Bruins but was a consistent threat every time he was on the ice. He may not have the speed or quickness he once did, but he's still a top playmaker and a great player with the puck.
Winger also says he will no longer raise a fist during the anthem after his protest started...

Here's what you might have missed across the NHL on Tuesday night

Montreal can't score, New York's defense is in disarray and the Oilers are supremely under...
The NHL's newest team is a hit on and off the ice

J.T. Brown, who raised his fist during the national anthem, meets with Tampa Police Depart...

The decision would likely be met by anger from some fans, but it could also make sense