NHL rumors: Jaromir Jagr to Devils is '99 percent' done
Jaromir Jagr was reportedly in New Jersey on Friday touring the facilities and now a deal with the Devils is '99 percent' done per a report.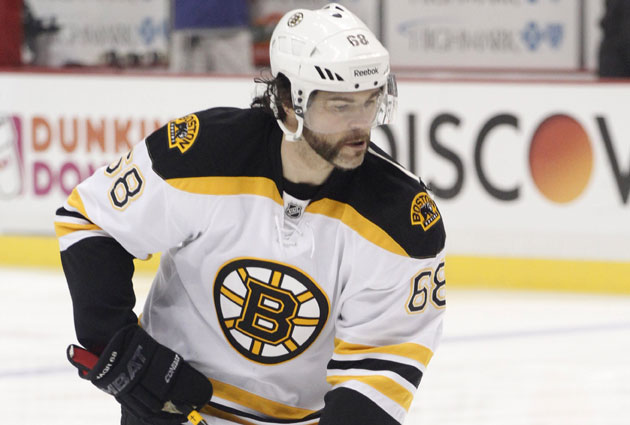 More NHL offseason: Rumors | Top 50 Free Agents | Buyout Tracker | Trades | Transactions
On Friday it was reported that Jaromir Jagr was in New Jersey, checking out the Devils and all of their facilities. The free-agent forward still hasn't signed a contract for next season, trying to find the right fit.
Apparently he liked what he saw because on Saturday a report from the Czech Republic said Jagr is all but done to the Devils.
99 percent Jagr is gonna sign with #NJDevils. Good source.

— Roman Jedlicka (@jedli) July 20, 2013
This would make a lot of sense on both sides, for both Jagr and the Devils. There is a need in New Jersey for a big forward who can play on the wing and provide some scoring. Jagr isn't a guy who will burn out the lamp lights anymore, but he can still give offense. With Ilya Kovalchuk and David Clarkson leaving a team that was already hurting for goals, Jagr helps fill that void.
Plus, he should fit in well with a team that controls the puck as well as New Jersey. Even if Jagr isn't scoring a ton these days, he still does impact the game positively with his puck possession skills. He's still as big as an ox and is as tough a player to knock off the puck as you will find in the game. Despite their struggles last season and losing some key players, I don't believe the Devils are that far from being a playoff team again. Adding Jagr wouldn't hurt.
If this deal does indeed get done, Jagr will notch another mark on his stick in his tour of the Metropolitan Division. He has already played for the Penguins, Flyers, Rangers and Capitals. Perhaps he could be traded to any one of Carolina, the Islanders or Columbus during the season to get closer to finishing the tour.
You'll recall that last week Jagr posted a video in Czech on Facebook where he mentioned he was seeing a lot of black. The Devils are one of the teams that feature black pretty prominently. So, yes, the pieces of the puzzle are starting to come together.
Last season split between the Stars and Bruins Jagr had 16 goals and 19 assists in 45 games. He didn't score a goal in 22 postseason games but he did have 10 assists and numerous glorious chances.
The decision would likely be met by anger from some fans, but it could also make sense

Toronto shoots to the No. 1 spot, just ahead of the Chicago Blackhawks

The Penguins' standout is at it again
Gary Bettman all but reverses course from his September comments on anthem demonstrations

The 'Washington Post' says many teams have stopped booking stays at Trump-owned properties

New Jersey has the long-term promise; Vegas is nothing like an expansion pushover