NHL rumors: Kris Letang would prefer Maple Leafs if traded
The Penguins and Kris Letang keep working on an extension but if one can't be reached, Letang would reportedly like to go to Toronto.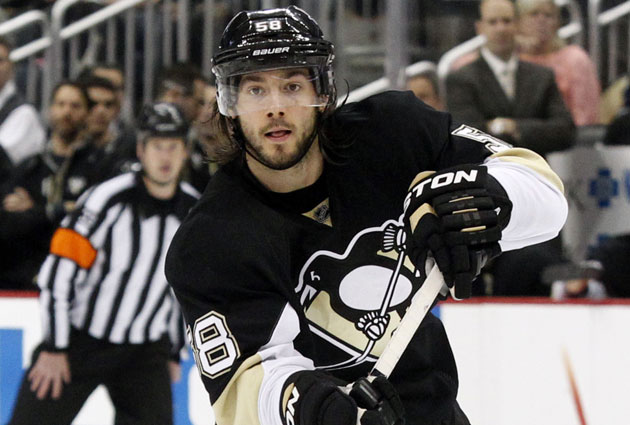 More NHL offseason: Rumors | Top 50 Free Agents | Top 50 Prospects | Mock Draft   
The Pittsburgh Penguins and Kris Letang, whose contract is up after next season, continue to talk about an extension that will keep the Norris Trophy finalist in Pittsburgh for a long time. But the salary cap is a real concern.
GM Ray Shero already locked in Evgeni Malkin to a massive contract extension that will kick in after next season and that adds to the mega deals for Sidney Crosby and James Neal. Those three will account for $23 million of the team's cap space, which does not leave much room for Letang and his expected $7 million contract.
That has Letang a bit uneasy about his future with the franchise and after seeing the Penguins trade away Jordan Staal at last year's draft, Letang knows the same fate could await him.
So according to Rob Rossi of the Pittsburgh Tribune-Review, Letang would not mind playing for the Toronto Maple Leafs if he were to meet the same fate as Staal.
Letang does not have a full- or limited-movement clause in his contract, and he has not requested a trade.

He reiterated Wednesday that his focus is on working out a new contract with the Penguins.

However, Toronto has emerged as a potential destination if there is a breaking point with the Penguins, the sources said.

To trade Letang, the Penguins would seek the return of an NHL-ready player under contract, at least one top prospect and a potential first-round draft pick, the sources said.
Again, the preference of Letang is to remain where he's at -- and why not? The Penguins are in the hunt every year. However making it happen is a very, very tough proposition, thus the need to think of a backup plan.
UPDATE: Maybe there's not a whole lot to the Leafs idea after all. Bob McKenzie of TSN quoted Letang's agent saying, "We haven't discussed the Toronto Maple Leafs. Period."
The Maple Leafs do have some space under the salary cap that they could fit Letang in and it would pretty clearly be a great acquisition. The Leafs could use a help on the blue line and for as much criticism as Letang took for his defense in the postseason, he's honestly not bad. His offense and power-play ability are second to pretty much none in the league right now among defensemen.
The asking price for Letang will be high, but it should be, defensemen like him don't grow on trees. Who the Leafs might have to give up to swing a deal could be pretty tough pill to swallow, especially when you consider that then the Leafs would have to pony over a lot of dough to keep Letang there for the long-term.
Presumably, talks will continue between Letang and the Penguins through the weekend but it's certainly possible the Penguins will deal Letang at the draft the same they did with Staal. Now at least they have an idea of which team to approach first should it come to that.
And to think, the summer of craziness that awaits us hasn't even really begun.
Joffrey Lupul spent last season on long-term IR but seems to be saying he's healthy

Early playoff trouble has been evident, but the Wild tout an offense capable of making another...

Why walk with skate guards when you can rollerskate instead?
This will not leave your memory any time soon

Vegas isn't being quiet about its hot start to the NHL preseason

The blue-liners are set for another big push, but Edmonton's rise is hard to ignore in the...