NHL Rumors: Langenbrunner wants to play; Clifford on move?
Jamie Langenbrunner wants to continue his career and would love to hear from his home state Minnesota Wild. Also, the Kings are shopping Kyle Clifford.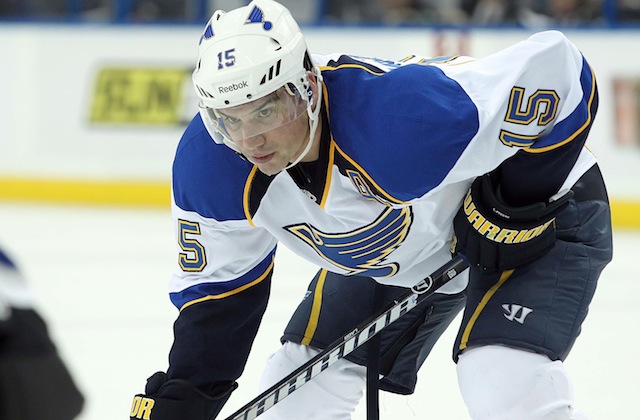 More NHL offseason: Rumors | Top 50 Free Agents | Buyout Tracker | Trade Tracker
After being limited to just four games during the 2012-13 season due to a torn labrum, Jamie Langenbrunner isn't ready to hang up his skates for good.
Langenbrunner told Rick Weegmen of the Duluth News Tribune on Tuesday before the Duluth Sports Heritage Summer Hockey Classic that he has no pain when skating and wants to get back into the NHL next season.
He's an unrestricted free agent, but there seems to be little interest in his services at this point. Based on his conversation with Weegman, he seems to be hopeful that the Minnesota Wild (he's from Minnesota and still has family ties in the area) will be in the market for him.
"I've been pushing my agent to do some talking to the Wild for me," Langenbrunner told Weegmen. "That would, obviously, be the ideal situation from a family standpoint. I understand what they are trying to do and who knows what their choice will be, but I would welcome an opportunity to play there."
Langenbrunner, who will turn 38 in a couple of weeks, spent the past two seasons with the Blues and scored six goals in 74 games.
His production has rapidly declined, but he has still been a really strong player when it comes to driving play and, in his last full season with the Blues, posted some of the best possession numbers on the team. A team that values that sort of contribution and is willing to take a chance on a 38-year-old coming off major surgery might see some value in a possible depth role. There probably won't be a ton of teams lining up to sign a player in his situation (and, given how little attention he has received, there haven't been). But on a small contract, it wouldn't be the worst gamble that a team could take in free agency.
There's no guarantee for success, but there's also relatively little risk to it, either.
Kings shopping Kyle Clifford?
The Los Angeles Kings are rumored to be shopping restricted free-agent forward Kyle Clifford, and David Staples of the Edmonton Journal seems to think the Oilers might have an interest in acquiring him given their previous interest in Cal Clutterbuck (he was eventually traded to the Islanders), as well as the trade history between the two clubs.
From Staples:
Clifford looks to be a Cal Clutterbuck type forward, but a younger, less banged up version of that player. He is a big, strapping winger, 6-feet, 2-inches, 208 pounds. He shoots left and plays left wing. On the Oilers, he would project to play on the third line and maybe even higher now and then, given his stint with Carter and Richards.

Given the Oilers interest in Clutterbuck, it would seem to be a no-brainer that the team would also be interested in Clifford.

Los Angeles and Edmonton have also done business a number of times in the past, with Los Angeles getting Matt Greene and Jarret Stoll for Lubo Visnovsky, Justin Williams in a three-way deal that saw Patrick O'Sullivan move to the Oilers, Dustin Penner for Colt Teubert and the draft pick that turned into Oscar Klefbom, and Fraser for Ryan Smyth.
Clifford played a variety of roles with the Kings this past season, seeing time in their top six alongside Jeff Carter and Mike Richards, as well as their bottom six alongside Jordan Nolan and Colin Fraser.
He's only 22 years old and is coming off what was by far his best season in the NHL, scoring seven goals to go with seven assists in 48 games.
He is a restricted free agent and is most certainly due a raise from the $900,000 that he made last season.
The problem for the Kings is they are just $2 million below the $64.3 million salary cap and still need to work out contracts for fellow restricted free agents Nolan and Trevor Lewis.
Lewis has an arbitration hearing scheduled for August.
Buffalo is in the midst of contract extension talks with Jack Eichel, and the payout could...

Los Angeles isn't rushing to sign the 45-year-old forward any time soon

The University of Denver star and Hobey Baker Award winner is drawing interest
Intrigue is high in Arizona after a wild offseason, but expectations should still be tempe...

Players are set to give personalized messages for Adidas' former hockey equipment brand

The 40-year-old center is returning to the Wild after a successful run in Pittsburgh