NHL rumors: Leafs discussing Jake Gardiner with other teams
The Maple Leafs have a lot of defenseman and one who hasn't seemed to quite fit in under Randy Carlyle, Jake Gardiner, might be available.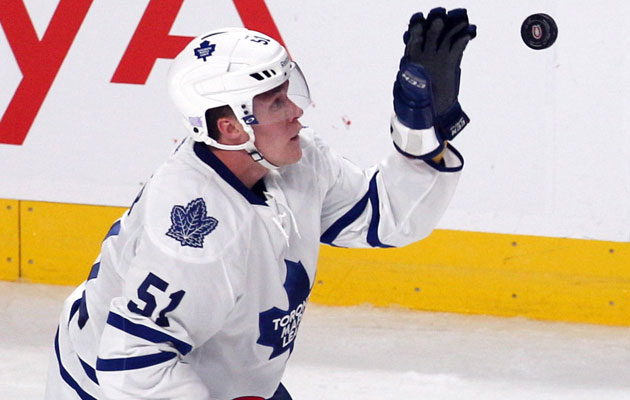 More NHL: Scores | Standings | League Leaders | Odds | Injuries | Power Rankings
Ever since Randy Carlyle took over as the coach of the Maple Leafs, things have not exactly sailed smoothy for defenseman Jake Gardiner. He was stuck for a good portion of last season in the AHL when his agent famously began the #FreeJakeGardiner movement before his eventual call up. Now there's talk he could be freed in a much bigger way.
In his weekly 30 Thoughts piece, Elliotte Friedman dropped these two nuggets which have sent the always sensible Toronto fan base into a tiny frenzy.
14. There is definitely some level of conversation going on between other teams and Toronto involving Jake Gardiner. I despise the word "shopped," as it's more like a feeling-out process. If the Maple Leafs do decide to do it, it's going to be for a young asset or assets. So, you have to look at teams with talented young players. This is PURELY my speculation, but if teams like Dallas, Florida or Minnesota would be interested, you could see a match.

15. The Gardiner talk surprised me, because he was so impressive against Boston in last year's playoffs. There are scouts who still have questions, but most agree that he has a valuable skill -- he can skate the puck out of trouble.
Friedman isn't one to get stuff wrong often so you can be sure there's something to this, though note he didn't report something was imminent or anything like that. It sounds more exploratory than anything else at this point. Though Leafs fans can hope he's wrong, way wrong.
Trying to understand the thinking of the Leafs on this one, he's a defenseman who doesn't quite fit the Carlyle tough-guy mold as Gardiner's a smooth-skating, puck-moving defenseman. He doesn't see a lot of time (relatively) so if the Leafs could move him for a young forward or such, they might have to consider it. They have a host of defensemen right now as it is -- though they haven't exactly been the shining spot so far this season. All put together, he's a nice trade chip if the Leafs elect to go that route, a lot teams would figure to be interested.
The panic in Toronto has since spread to Edmonton as well as it was suggested that the Leafs might be tempted to deal Gardiner for Nail Yakupov. However I think most in Edmonton are aware that's not going to happen. Gardiner still has a bright future but so does Yakupov, probably more so. At this point it's a crazy idea, not much more.
Instead, Friedman lists a trio of other teams that could be interested and all could use a player like Gardiner. The problem is, so could the Leafs if he can fi into the Carlyle puzzle again.
It was as a rookie under Ron Wilson that the 17th overall pick in the 2008 draft enjoyed his best season. He played 75 games scoring seven goals with 23 assists in 21:35 per game, tantilizing the Leafs fans with the bright future they heard so much about when he was traded to Toronto from Anaheim.
J.T. Brown, who raised his fist during the national anthem, meets with Tampa Police Depart...

The decision would likely be met by anger from some fans, but it could also make sense

Toronto shoots to the No. 1 spot, just ahead of the Chicago Blackhawks
The Penguins' standout is at it again

Gary Bettman all but reverses course from his September comments on anthem demonstrations

The 'Washington Post' says many teams have stopped booking stays at Trump-owned properties