NHL rumors: Leafs GM: 'We'd be willing to trade Nazem Kadri'
Would the Maple Leafs be willing to trade Nazem Kadri as was rumored last month? GM Dave Nonis confirmed as much on Thursday.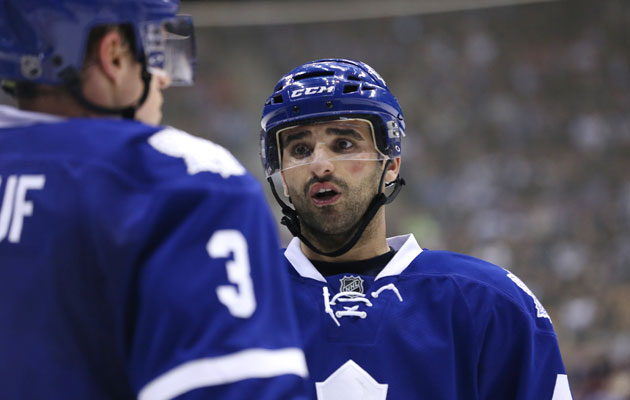 More NHL: Scores | Standings | League Leaders | Odds | Injuries | Power Rankings
Somewhat curiously, the name of Toronto Maple Leafs center Nazem Kadri made its way into the rumor mill earlier this season when it was suggested the Leafs would be willing to trade him.
That portion of the mill isn't going to stop spinning after Maple Leafs GM Dave Nonis made an appearance on TSN Radion in Toronto on Thursday. He talked about the potential of trades with a couple of the names that have been mentioned with Kadri of course being one of them.
Nonis "Kadri and Gardiner's names are brought up quite a bit, so is Rielly's. We'd be willing to trade Kadri."

— Hope_Smoke (@Hope_Smoke) January 16, 2014
Nonis "there's a difference between willing to and trying to. If the right deal comes up we would do it. "

— Hope_Smoke (@Hope_Smoke) January 16, 2014
So to be clear, he isn't looking to trade Kadri but he sure as heck would if the opportunity presented itself. Not exactly the biggest endorsement a player ever received from his general manager, now is it?
But in all fairness, Nonis said that Kadri isn't alone in this regard; they would consider a trade for pretty much anybody if it were the right deal.
Nonis "if the right deal for JVR comes up we would do that to. We're willing to trade anyone if it means our club gets better"

— Hope_Smoke (@Hope_Smoke) January 16, 2014
That's fair, but it does come across that Nonis is more willing to trade Kadri than some of the other players. Now he'd still need the right deal -- which would most likely have to include a center in return -- but the willingness just might be higher.
Kadri has 11 goals and 16 assists in 45 games this season, a step or two behind the 44 poins in 48 games he had last season with the Maple Leafs. That said, he's young, still cheap (an RFA after next season) and has a lot of potential as a scoring center.
A lot of teams would likely love to have him. You'd think that would include the Leafs considering Kadri is the most effective member of the Leafs (excluding new addition Tim Gleason) in Corsi For percentage, which is a proxy for possession. He's not on the plus side but he's the closest thing the Leafs have to a plus-possession player.
The Pittsburgh Penguins will put politics aside and visit the White House out of 'respect'...

NBC will reportedly be devoid of NHL game broadcasts between Feb. 7-26

The Winnipeg winger suggests Trump is going after 'the principles the U.S. was founded on'
League gets excited about exhibition matches in Beijing and Shanghai

NHL players are still disappointed they won't be going to skate in PyeongChang

With Artemi Panarin in the mix and a Vezina winner headlining the defense, Columbus can be...