NHL rumors: Leafs ready to retain salary to trade John-Michael Liles
The Maple Leafs would like to find a taker for John-Michael Liles, who is in the AHL and they're apparently willing to retain a lot of salary to make it happen.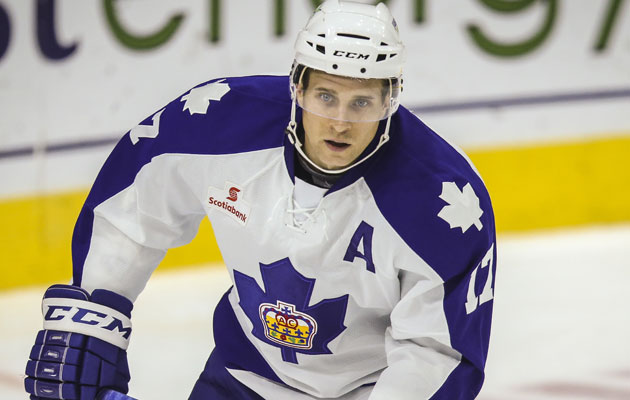 More NHL: Scores | Standings | League Leaders | Odds | Injuries | Power Rankings
To help get their roster set this season, the Toronto Maple Leafs decided before the campaign began to waive defenseman John-Michael Liles and send him to their AHL affiliate in town. Ideally they'd like to find a way to get him off their books all together via a trade but with three years left at $3.85 million per season, that's a tough proposition.
So the Leafs might be interested in making Liles look a little more attractive for any interested takers. From Darren Dreger of TSN.
Toronto will retain a significant portion of Liles's salary for the remainder of his contract to encourage a trade.

Liles, currently with the AHL's Toronto Marlies, carries a $3.875 mill. cap hit through 2015-2016. He has a modified no-trade clause, which includes a list of 12 teams, submitted during the summer, that he would accept a trade to. However, at this point, Liles is more than willing to consider all NHL interest.
You'll recall that this retained salary cap is a new feature in the CBA, and it adds a really neat wrinkle to trade proceedings. The Leafs would make his contract more palatable for other teams by keeping some of it on their books.
What's interesting is that the Leafs already are paying some for two former players they traded. In the trade that landed them Jonathan Bernier from LA, the Kings sent Matt Frattin and Ben Scrivens to the Kings and in the process retained some salary on each player. That hampered Toronto's cap situation further, though they were somehow able to squeeze everybody in under the cap by the hair on their chinny chin chins.
It's almost comical to look at the Leafs on Cap Geek at the moment. Say Liles were traded this season with the Leafs retaining salary. That would mean they would have three players on the retained salary list to add to the four players on the buyout list (though two of those buyouts are free of salary cap charge as they were amnesty buyouts this past summer). No wonder the Leafs barely had room to re-sign Nazem Kadri and Cody Franson.
Liles, who turns 33 next month, had 11 points in 32 games last season, arguably the worst season of his career. His last year in Colorado, back in 2010-11, he finished with 46 points in 76 games. Puck-moving is the name of his game. Whether or not he would be interesting to other teams, even at a discounted rate thanks to the Leafs, is yet to be seen.
In the meantime the Leafs will keep Liles buried in the AHL.
As an aside on the rumor front, Dreger also mentions in that link that the Red Wings are interested in making moves and could be dangling Jordin Tootoo to do it.
The Pittsburgh Penguins will put politics aside and visit the White House out of 'respect'...

NBC will reportedly be devoid of NHL game broadcasts between Feb. 7-26

The Winnipeg winger suggests Trump is going after 'the principles the U.S. was founded on'
League gets excited about exhibition matches in Beijing and Shanghai

NHL players are still disappointed they won't be going to skate in PyeongChang

With Artemi Panarin in the mix and a Vezina winner headlining the defense, Columbus can be...