NHL rumors: Leafs trying to move John-Michael Liles
The Leafs have to do something if they want to keep both Nazem Kadri and Cody Franson. That something could involve John-Michael Liles.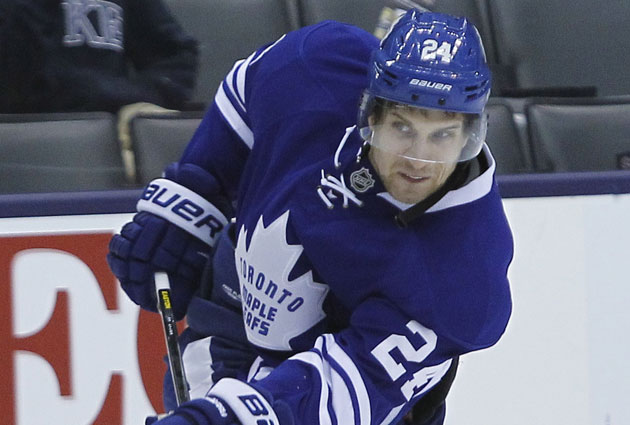 More NHL offseason: Rumors | Top 50 Free Agents | Buyout Tracker | Trades | Transactions
Something's gotta give in Toronto and it could give really soon.
As it stands now the Maple Leafs have just under $5 million salary cap space and two players to re-sign -- Nazem Kadri and Cody Franson -- who won't be cheap. That salary space won't be enough and while the Leafs can exceed the cap by 10 percent in the offseason, something has to be done so they are cap compliant by the time the season begins.
That's where the suggestion came up last week of the Leafs possibly looking to trade Franson, the young defenseman who had 29 points last season. Considering Franson has become a key piece of their defense and obviously is a point contributor on the back end, that option is less than ideal.
Another option is doing something, anything, with John-Michael Liles, something Bruce Garrioch says the Leafs have already begun exploring.
The Leafs have been trying to move D John-Michael Liles with no success. There has been speculation he may be bought out during the window in the new collective bargaining agreement that starts Friday and closes Monday.
To clarify, that would be the old-fashion buyout. The Leafs already used their two compliance buyouts on Mike Komisarek and Mikhail Grabovski.
Considering Liles' contract, which pays him $3.875 million per season over the next three years, would be awfully hard to move, especially considering his role diminished a ton last season to where he was scratched on occassion. Buying him out would cost the Leafs money and some cap hit, but the savings would likely be enough to get both Franson and Kadri under contract for next season.
That option, while costly, would seem to be the most prudent for the Leafs given what Franson has displayed -- and for the record, forget Kadri going anywhere, it's not happening. Dave Nonis has been awfully busy this summer and he still has plenty of work left to do.
The Winnipeg winger suggests Trump is going after 'the principles the U.S. was founded on'

League gets excited about exhibition matches in Beijing and Shanghai

NHL players are still disappointed they won't be going to skate in PyeongChang
With Artemi Panarin in the mix and a Vezina winner headlining the defense, Columbus can be...

The league's crackdown on faceoff infractions and slashing penalties isn't without some cr...

Joffrey Lupul spent last season on long-term IR but seems to be saying he's healthy