NHL rumors: League considering more outdoor games for 2013-14?
The Winter Classic has been such a success for the NHL that it might be considering doing it a few more times. In one season.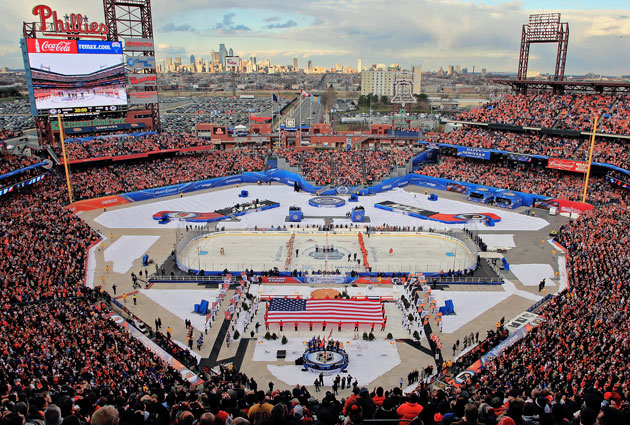 More NHL: Scores | Standings | Odds | Fight-O-Meter | League Leaders | Rumors
The Winter Classic has been such a success for the NHL that it might be considering doing it a few more times. In one season.
Per a report by David Pagnotta of The Fourth Period, the NHL is considering expanding the outdoor game spectacle next season. By four times.
The NHL is currently trying to fit an outdoor game inside Yankee Stadium in New York City, something they've been attempting to orchestrate for several years.

Another possible venue?

How about Dodger Stadium in Los Angeles.

...

Update: A few hours after this story was released, we had been informed that the NHL is also in discussions to bring back to Heritage Classic. According to TFP's Dennis Bernstein, it could take place in either Vancouver or Edmonton.
Just to further lend credence to the report from Pagnotta, Elliotte Friedman gave mention to it on CBC's Hot Stove on Saturday night. If it's good enough for Friedman, then you know there's something to it.
It does inspire a one-word reaction from me, though ... NOOOOoooooooo!
The one-game-per-season has already had people wondering if it was too much, if the spectacle was going to run its course and not be special anymore. So instead they might add THREE more in one season? No thank you. You ever hear too much of a good thing? This would fit that mold. Don't cheapen the New Year's Day extravaganza by doing it a few more times.
I could live with the return of the Heritage Classic in Canada; that was actually happening before the Winter Classic. I'd have no problem with a second outdoor game. But four? It's overkill. Plus, would you really want to waste a setting like Yankee Stadium on a game that wouldn't technically be the Winter Classic?
That doesn't even mention Los Angeles. I'm one of those who would love to see it happen in some warmer climates, we know it can be done. It might be pretty awesome to see a hockey game at Dodger Stadium with the picturesque setting beyond the outfield.
Obviously there would be plenty of attention to outdoor games if they were the Classic or not, especially for a game in L.A. But it just wouldn't be the same.
It makes sense that the NHL would like the idea of more outdoor games. They are revenue producers. They can sell four to five times as many tickets as a regular game indoors and it results in spectacular media coverage as well. If the league is looking at no All-Star Game because of Olympic participation, then it is a chance to make up some revenue that might disappear.
But it's just too much. There have been some good contests in the Winter Classic but the actual hockey hasn't been great, certainly hasn't been able to compare to regular indoor hockey. The elements make a difference and it isn't particularly a good one. People are willing to forgive that once a year for the Winter Classic, but a few more times?
It is an important note that Pagnotta reports the consideration doesn't go beyond the 2013-14 season yet.
The NHL has a winning formula with the Winter Classic. It's gone about as well as the league could have hoped. It's been special and something everybody looks forward to on the schedule. Don't cheapen it. But that's just my take.
More from Eye on Hockey
Report: Details being finalized for 2014 Classic in Michigan
For more hockey news, rumors and analysis, follow @EyeOnHockey and @StubitsCBS on Twitter, subscribe to our YouTube account and like us on Facebook.
The 32-year-old forward tells the media he expects to be back on the ice for the Devils op...

It seems it's all as wild as it sounds, with Canadian actor Zack Ward heading a 'West Coast...

Lots of moving parts may be the biggest hurdle for Carey Price and Co., a defensively geared...
The Penguins have some fun with the names of some Ducks linemen

Rookie Tyler Wong scores a hat trick to lift the NHL's newest team in its exhibition debut

Depth is a concern, but Edmonton is all in on its young, speedy stars with Stanley Cup pot...