NHL rumors: Maple Leafs have their eyes on Florida's Dmitry Kulikov
The Panthers are reportedly interested in moving some players and now the Maple Leafs apparently have their eyes on one Panther: Dmitry Kulikov.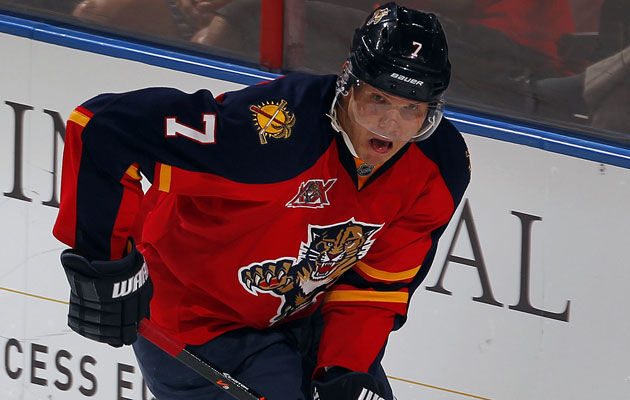 More NHL: Scores | Standings | League Leaders | Odds | Injuries | Power Rankings
Just two days ago word came out that the Florida Panthers were already starting to get that wheeling and dealing bug with a large portion of their roster available for trade. From the looks of it, there could be a taker.
Defenseman Dmitry Kulikov was the Panthers' No. 1 pick (14th overall) in the 2009 draft. He made the team right away and has been in Florida ever since, signing a two-year extension as an RFA before last season that runs through this campaign. Despite still being just 22 years old and ostensibly a potential long-term Panther, he was not on the reported "no-ship" list and apparently has an interested suitor.
From Damien Cox of the Toronto Star:
One of the players the Maple Leafs have been eying from afar over the past couple of seasons is defenceman Dmitri Kulikov of the Florida Panthers, and Kulikov might just be more available now than he was because of the wreckage of Florida's early season play. He's only 22, but already has four full seasons in the NHL. A couple of problems. He won't come cheap. He's in the last year of a contract that comes with a $2.5 million hit and will be looking for a significant pay increase this summer. And he shoots left, with the Leafs more in need of a right-handed shooting blueliner. Like Mike Kostka. Oh, never mind.
Ah yes, what would a trade rumor be without the presence of the Toronto Maple Leafs?
They're an interesting team to pop up here because on Monday it was reported the Leafs were still trying to trade veteran defenseman John-Michael Liles and were willing to retain much of his salary to get a deal done. Now there's no indictation whether Florida would have any interest in Liles (though we do know how GM Dale Tallon feels about veteran players), it's just interesting the timing of the pair of rumors popping up.
Kulikov has struggled to reach his potential, his play seemingly sliding some in the past season-plus. There are reasons why Florida would have potentially soured on him at this point; eventually a player needs to reach his potential. That said, the potential remains as he skates well and has plenty of potential to grow as an offensive player while shoring up things in his own end. Point is, he could still have plenty of trade value despite the diminished performance and expiring deal because he's young and will still be a restricted free agent.
At this point it's still early enough and plenty of time to rebound that any trades are still a ways away from happening, but it's of interest to see names and teams already being linked in some fashion.
S/t to PHT
Ovi breaks down doors in Virginia

Winger also says he will no longer raise a fist during the anthem after his protest started...

Here's what you might have missed across the NHL on Tuesday night
Montreal can't score, New York's defense is in disarray and the Oilers are supremely under...

The NHL's newest team is a hit on and off the ice

J.T. Brown, who raised his fist during the national anthem, meets with Tampa Police Depart...