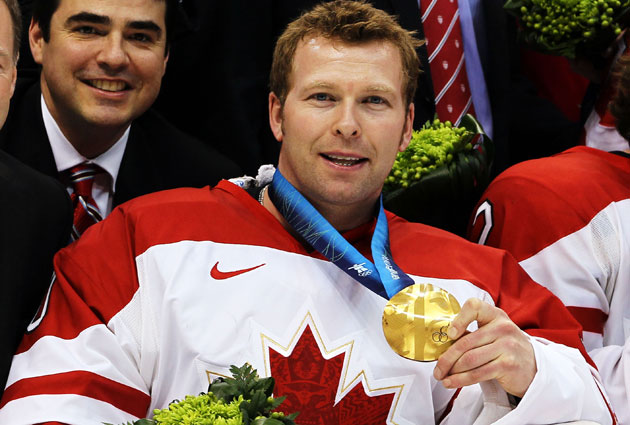 Brodeur was part of the Gold medal-winning Canadian team in Vancouver. (Getty Images)
More NHL: Scores | Standings | Odds | Fight-O-Meter | League Leaders | Rumors
New Jersey Devils goaltender Martin Brodeur contemplated retirement after last season before he ultimately inked a new two-year extension with the only NHL team he has ever known. From the sounds of it, he plans to honor both of thos years.
Not only that, but Brodeur also has his eyes on playing for another team in 2014: Team Canada. That's if the NHL allows its players to go to Sochi for the Games, of course.
In more detail, here's what he told Ian Mendes of Sportsnet.
"Now, we're getting closer and I'm still playing. I didn't even know if I would be playing in 2014 and I will be playing next year. So if they feel like I'm still capable of helping them out in any way, for me it's a great honour to be a part of Team Canada," said Brodeur.

The 40-year-old netminder, who has recorded an NHL record 663 wins, understands that he may be pushed out of the starter's job by younger goalies such as Carey Price or Marc-Andre Fleury.

"It would be great, but I understand that in my position it's a little harder than a forward," explained Brodeur. "You have a lot of young goalies who are coming up and are really successful that deserve to be there or to be considered before I do just because of my age. If I'm able to compete as well as anybody, you never know."
Considering that Marty signed a two-year deal, it's not terribly surprising to hear that he's coming back for next season for sure. Listening to him speak and watching simply the way he was during the Devils' playoff run last season, you could tell that he was having a lot of fun. It's what brough him back for another year. It's going to keep him around for another one, too.
From a records standpoint, there's pretty much nothing left for Brodeur to do. One of my favorite stats in hockey right now is that Brodeur himself has more wins than seven NHL franchises. By himself. I know some of those franchises haven't been around as long as he has, but that's still amazing.
Really, his name is across the goalie records similar to Wayne Gretzky's across the skater records. His stamp is already sealed, he's playing for the fun of it now. Well, that $4.5 million salary probably doesn't hurt too much either.
Then there's the part about the Olympics. At this point it feels like if Marty wants a spot, he gets a spot. There are plenty of guys who would be in the mix to play -- Roberto Luongo, Carey Price, Corey Crawford, etc. -- but there's no harm in bringing in Brodeur to be the third goalie on the team if that's what he wants. He's earned that.
Not to mention it's not as if Brodeur is completely washed up. He's not the same goalie he used to be but his 7-2-2 record, 2.29 goals against average and .912 save percentage this season are hardly shabby. Let me put it this way; he wouldn't be a liability.
So don't worry if the Devils aren't coming by your nearest NHL city this season, all you fans out West. He'll be making the visits next season too. And, perhaps one more to Russia.
For more hockey news, rumors and analysis, follow @EyeOnHockey and @StubitsCBS on Twitter, subscribe to our YouTube account and like us on Facebook.