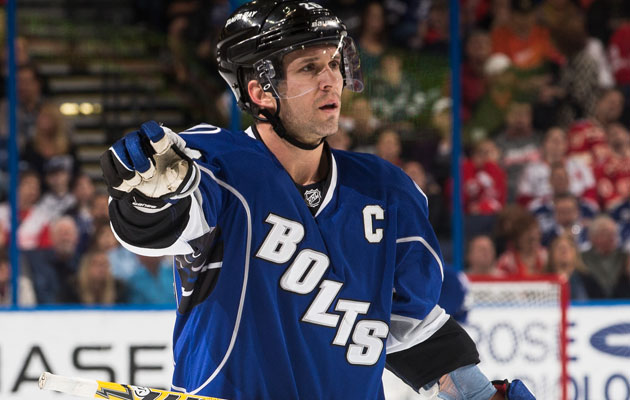 More NHL: Scores | Standings | League Leaders | Odds | Injuries | Power Rankings
Maybe Boomer Esaison was onto something.
The idea of the Tampa Bay Lightning trading Martin St. Louis sounded crazy when Esaison suggested a St. Louis-Ryan Callahan swap was in the works. Frankly, it still does sound crazy. But the smoke is billowing and where there is smoke there's usually fire.
The latest comes from Islanders beat reporter Arthur Staple of Newsday. According to him, the rumors around a possible St. Louis trade originate from a request from St. Louis himself.
Not necessarily Islanders-related, but I've now heard from three different NHL people that Martin St. Louis did indeed request a trade last month. He has a full no-move clause, so he could pick his destination. That would seem to be the Rangers. St. Louis has an offseason home in Greenwich, Conn.

Have to see how that plays out and whether St. Louis ultimately getting to go to Sochi and win a gold medal has changed his feelings. But if this all stemmed from Steve Yzerman passing St. Louis over for the initial Team Canada roster, that may trump John Tavares' season-ending injury as exhibit A for owners and GMs never wanting the NHL in the Olympics again.
That changes things now doesn't it? St. Louis actually requesting the trade gives the rumors a whole new tilt.
St. Louis was asked about the speculation on Wednesday and his answer wasn't exactly water to put the fire out.
St Louis addresses trade rumors with brief answer "I've had conversations with Steve about my future with the team and I'll leave it at that

— Erik Erlendsson (@erlendssonTBO) February 26, 2014
Now note the timing here; Staple reports the request came last month, which was before St. Louis was named as an injury replacement by his GM Steve Yzerman for Steven Stamkos and won gold with Team Canada in Sochi. Maybe that has soothed over any ill will and the selection of St. Louis to the team on the second shot was the olive branch. It wasn't an undeserved recognition for St. Louis at all but still could have played a role in Yzerman's decision.
Then again, maybe it hasn't. His answer to the speculation is pretty vague and can go a lot of different ways, but with the rumors what they are, that doesn't seem so favorable to Tampa Bay.
St. Louis is an icon in Tampa Bay, a longtime star there and their captain. He's beloved in the area and not to mention is one of the league's top players still, evidenced by his Art Ross Trophy last season. It remains difficult to see a trade actually coming to fruition, especially with the Lightning in the heat of a playoff race. It would be nearly impossible for them to get back equal value.
The idea that Yzerman not selecting St. Louis the first time around for the Olympic team could play a role in him wanting to leave a franchise he has been with for 13 seasons sounds crazy but maybe it's closer to reality.
St. Louis leads the Lightning with 56 points (25 goals, 31 assists) in 58 games this season, 15 points more than anybody else on the team with Steven Stamkos' injury limitations.