NHL rumors: Michael Del Zotto drawing interest, on Sens' radar
Rangers defenseman Michael Del Zotto isn't having the best of seasons, leading the Rangers to field interest from 'five or six teams,' with the Senators believed to be one.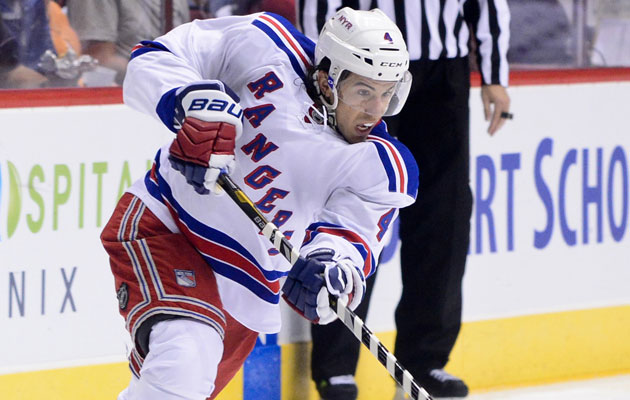 More NHL: Scores | Standings | League Leaders | Odds | Injuries | Power Rankings
Michael Del Zotto is in his fifth season with the New York Rangers this season after they selected him 20th overall in the 2008 draft and at this point his career in New York is heading in the wrong direction.
His play in the defensive zone has been oft-criticized by the Rangers faithfu. and not only that, his production and time is dipping. In 16 games he has just one goal and three assits while playing 18:28 a game, the lowest total of his career. Considering he had 10 goals and 31 assists in the last full NHL season while playing 22:26 per night, it's been a disappointing campaign for Del Zotto.
That helps to explain why the Rangers might not be averse to dealing the defenseman who is a restricted free agent after this season. Darren Dreger explained a little more on TSN's Insider Trading on Tuesday (video):
He's not having a good year. He's playing well behind [Ryan] McDonagh and [Marc] Staal on the left side so he's a third-pairing defenseman. He would probably embrace a change and we're told at least five or six teams have inquired about different trade scenarios.
While he has definitely had his struggles, Del Zotto is still a player with plenty of potential as he is just 23 years old and is under team control for a while yet given his RFA status after this season. He's a puck-moving defenseman when at his best and has had plenty of experience running the point on the Rangers' power play over the last couple of seasons.
That puck-moving ability helps makes him attractive to those five or six teams that have expressed interest, one of which is believed to be the Senators. Pierre LeBrun noted on the same segment that they would like to add another puck-mover on the back line to complement former Norris winner Erik Karlsson.
They have had this mystifying start. They have been so inconsistent and I'm told one of their top priorities on the trade market between now and the deadline is to find a puck-moving defenseman. Del Zotto is on that list of players that they have on their radar. But it's a money-in, money-out with the Senators with the situation with ownership.
Del Zotto doesn't cost a ton with a $2.55 million cap hit for this season but the Sens aren't in position to take on any more money so as LeBrun notes, they would have to send some money back. It's not entirely clear what the Rangers would want, though they might look for a little help up front at the wing if their interest in Martin Havlat was indeed sincere.
Given his struggles this season and the upcoming deal, Del Zotto's name likely won't disappear from the "trade block" until the deadline passes.
The city has already received approval from the NHL to file for an expansion team

Bovada says the two nicknames are favored to be used, with Rainiers coming in third place

Here's everything you need to know to watch the NHL's marquee midseason event
The expansion Golden Knights officially moved into first place in the NHL on Sunday

The former Boston Bruin was the first black player to play in the NHL

Inclement weather led to the Charlotte Checkers and Bridgeport Sound Tigers playing in front...