NHL rumors: Nazem Kadri made available in trade talks by Leafs
A second report in as many days says the Maple Leafs are looking to trade young center Nazem Kadri. This could get interesting.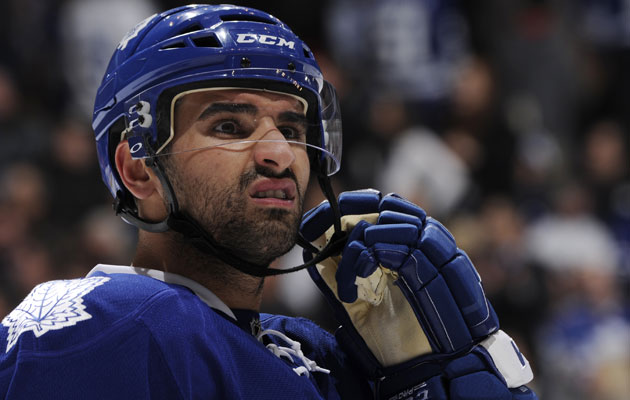 More NHL: Scores | Standings | League Leaders | Odds | Injuries | Power Rankings
For the second time in as many days, Nazem Kadri's name has popped up in a surprising edition of trade speculation. Now it starts to get a little more serious.
On Sunday, Larry Brooks of the New York Post added a little gem in his weekly column that often includes scuttlebutt from around the league. All Brooks said: "Boy oh boy, would the Maple Leafs love to find a taker for Nazem Kadri."
It seemed to be out of left field and didn't include anything else so you couldn't be faulted for putting much stock into it. But on Monday the sentiment was basically echoed by Nick Kypreos of Sportsnet. The Leafsmight indeed be looking to move Kadri along.
In wake of Carlyle rant this morning 2 #NHL clubs have confirmed for me #Leafs have made Kadri available in any trade discussion.

— Nick Kypreos (@RealKyper) December 30, 2013
Well that is interesting and by interesting we mean slightly miffing. Kadri is only 23 years old and has already shown he has the potential to be a productive scorer at the NHL level (he has 23 points in 37 games this season, slightly down from last season's pace).
Moreover, Kadri is signed for relatively cheap with a $2.9 million cap hit through next season and plays center, a position that the Leafs have been thin at this season with injuries and such. They should be looking to add young centermen, not trading them away.
But Kadri's relationship with the team that drafted him has never seemed to be exactly easy. Some felt he was held down in the AHL for too long and Carlyle has been tough on him at times. Plus, he'll be due a big raise that he was denied in the drawn-out contract negotiations this past summer. That said, it's tough to deny his offensive capabilities and it makes you wonder what could be so bad that the Leafs would be shopping Kadri at this point. It's just tough to believe the Leafs would really pull the trigger on a deal that sent Kadri out of town.
The timing could probably be a little for Kadri, who is sure to face some questions from the throng of media on hand for the Leafs' next game on Wednesday: the Winter Classic.
NHL fans from all over seem to agree on one thing: Hating Kid Rock

The team tweeted on Monday that Shaw would be re-evaluated in 7-10 days

The Montreal forward was hospitalized after taking a Zdeno Chara slap shot to the head
Tampa Bay is still No. 1 and Vegas is still up there, but a few others are finally catching...

Army filed an opposition to the use of 'Golden Knights' on the last day that it was permitted...

The NBC rinkside reporter is hoping to return in time for the 2018 Olympics