NHL rumors: Oilers already looking for goaltending help
Devan Dubnyk's and the Oilers' awful start already has the rumors starting up as they are starting to look into goaltending help.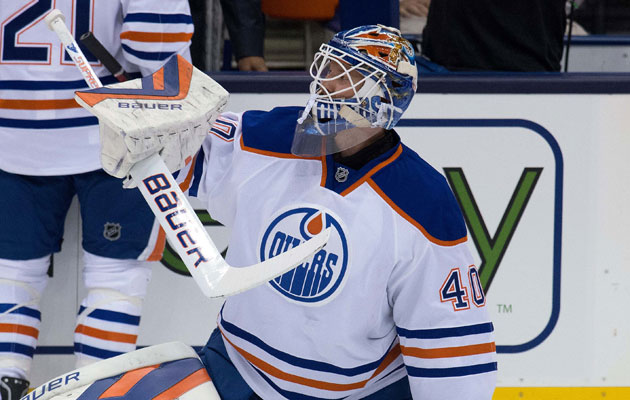 More NHL: Scores | Standings | League Leaders | Odds | Injuries | Power Rankings
The Edmonton Oilers have started the Dallas Eakins era with an abysmal 1-4-1 record and it hasn't been difficult to find a scapegoat to bear the blame. The goaltending, specifically Devan Dubnyk, has been atrocious with the Oilers giving up 4.83 goals per game.
Dubnyk has had a rough start with an .829 save percentage in four games this season. Considering he's seen as their goaltender for the long-term, that's troublesome.
That explains why the trade rumors are already picking up around the Oilers just a couple of weeks into the season.
Bob McKenzie: "They're going through the league list alphabetically" on the Oilers search for a goalie #TSNDrive

— TSN Radio (@TSN1050Radio) October 15, 2013
That would indicate a couple of options. They could be seeing if anybody is interested in being a trade partner or it could also mean that they're looking at the free agents (I hear Ilya Bryzgalov is looking for an NHL contract). First and foremost, though, a trade seems to be the speculation.
The obvious names are already popping up in spitballing, names like Ryan Miller (on the trade block), Brian Elliott (free agent after this season) -- who seems to be the most obvious candidate at this point -- and Michal Neuvirth (stuck as the backup in Washington) have been suggested.
It's already leading to more speculation, as in what it could possibly cost the Oilers to get any of those players. Considering he was a healthy scratch this last week and there have been rumblings -- shot down right away, mind you -- he was looking at returning to Russia, Nail Yakupov's name is being speculated.
While it wouldn't be impossible to imagine considering how much talent the Oilers are stockpiling up front and his potential value in a trade return, it's very, very tough for me to see that happening, especially for a goalie with an expiring contract. He's only in his second year and was the No. 1 overall pick for a reason.
However if you want to get a top goalie it will cost you top talent as Darren Dreger points out.
Oilers will need to find a bonified #1 goaltender and then be willing to move one of their young guns to get him. Very difficult position.

— Darren Dreger (@DarrenDreger) October 15, 2013
Considering they've already signed Taylor Hall, Jordan Eberle and Ryan Nugent-Hopkins to long-term deals, Yakupov again seems to become a target. So really, who knows at this point. GM Craig MacTavish is going to have some big decisions to make.
It's a fair question to wonder if this talk is all simply premature and certainly it doesn't sound like the Oilers are banging down doors trying to get a deal done this week. Tyler Dellow in fact took a look at Dubnyk's start to see if it means he's doomed for this entire season (he's not). Remember, Dubnyk was pretty strong last season with a .920 save percentage and is still just 27 years old. At the same time, it doesn't hurt (much) to simply explore the market, see what's out there.
In the meantime, the Oilers need to tighten up on defense to start trying to turn the corner everybody is expecting, that includes both the goalies but the entire team defense as a whole. They still have a deficiency on the back end that undermines the offense they can put up. Nothing would put a stop to any rumors quite like Dubnyk finding his game again. That's assuming he can get starts back from Jason LaBarbera.
The former Boston Bruin was the first black player to play in the NHL

Inclement weather led to the Charlotte Checkers and Bridgeport Sound Tigers playing in front...

The NHL chose the Detroit rocker as its All-Star Game entertainment and not everyone is th...
NHL fans from all over seem to agree on one thing: Hating Kid Rock

The team tweeted on Monday that Shaw would be re-evaluated in 7-10 days

The Montreal forward was hospitalized after taking a Zdeno Chara slap shot to the head