NHL rumors: Oilers' top draft pick could be available for defense
The Oilers are headed for another pick high in the draft but GM Craig MacTavish doesn't think they need another, they need D so the pick could be available.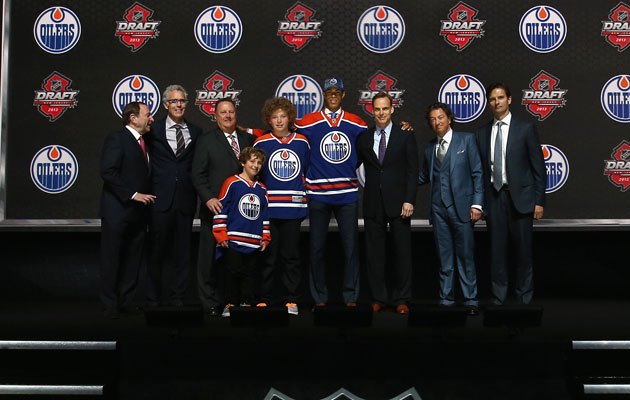 More NHL: Scores | Standings | League Leaders | Odds | Injuries | Power Rankings
The Edmonton Oilers have selected No. 1 overall three times in the last four drafts and again in the top 10 this past draft. The last thing they want apparently is to do it again.
On Thursday Oilers GM Craig MacTavish met with the media and discussed the state of the team and where it stands right now with the Oilers continuing to struggle. He's frustrated -- "pissed," in fact -- and is doing what he can to fill the missing holes.
He has clearly identified one hole and he's open to trading the Oilers' top draft pick to help him get the upgrades he needs.
"The blueline needs to be improved upon... Do we need a big stud defenceman? It would help immensely." - MacTavish on #Oilers D

— Edmonton Oilers (@EdmontonOilers) November 14, 2013
"I don't view another first round draft choice as what we need. Whether I can get suitable value for that remains to be seen." MacT

— Jason Gregor (@JasonGregor) November 14, 2013
That should intriguie some general managers across the league considering as it stands now the Oilers are clearly on their way to a top-five draft pick (with the shot at No. 1 in the lottery), potentially higher. MacTavish just sent up the Bat signal to GMs across the league with that, it's an intriguing proposition even if this year's draft doesn't have the same cachet that the past crop did.
Still, a high pick is a high pick and there's always top talent up there. The other teams near the bottom of the standings should be intrigued; teams like Buffalo or Florida probably won't mind having better odds to get No. 1 and get another top-five pick in their pockets.
But what MacTavish is thinking makes perfect sense. They shouldn't need any more high picks, they've had enough to be successful. The more they keep relying on the draft to get them the pieces they want, the longer it's going to take to get where they want to be becuase you have to continue to rely on prospects and guys who have a lot to learn.
That said, picking up stud defensemen in the NHL isn't easy to do even with a high draft pick as bait. But given the talent they have at forward and a few defensemen in the system right now in Darnell Nurse and Oscar Klefbom, the prospect pool is plenty full at the moment. They need experience and guys who can help them in the more immediate future.
In other words, if your team has a spare defenseman and would like a top draft pick, tell them to give Craig MacTavish a call.
As for the status of coach Dallas Eakins, MacTavish couldn't be more supportive and still thinks the light as there at the end of the tunnel.
"What this team needs is continuity in coaching, and they're going to get it... he's hitting all the right messages." - MacT on Eakins

— Edmonton Oilers (@EdmontonOilers) November 14, 2013
"It's painful, but we're going to get through this and eventually be a much improved team." - GM MacTavish message to #Oilers fans

— Edmonton Oilers (@EdmontonOilers) November 14, 2013
Ontario's 2017 RBC Canadian Open plays host to some puck shots from the legendary golfer

The unsigned forward, still in search of a team, is campaigning for himself

The league shoots down a report that NHL players could still be permitted to go to the Oly...
The 45-year-old forward remains unsigned but has shown little desire to hang up the skates

Pittsburgh also has been linked to Matt Duchene and could be in the mix for Tyler Bozak

Nashville extends its 24-year-old restricted free agent with what could be bargain numbers