NHL rumors: Panthers to try out Alexei Kovalev, Marek Svatos
The Panthers won the Southeast last year, but a need for scoring was obvious. So they're reportedly going to give veterans Alexei Kovalev and Marek Svatos tryouts.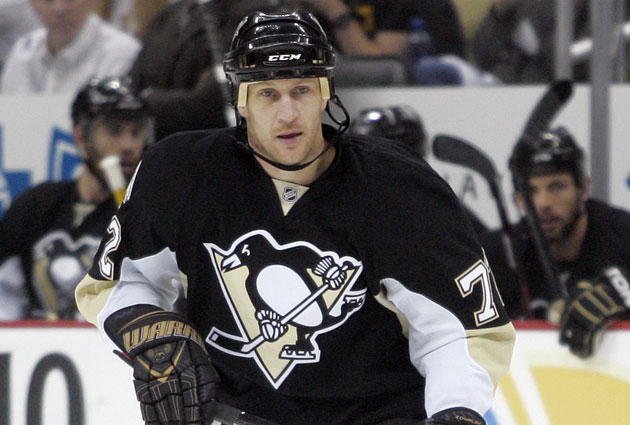 Kovalev was last with the Pens in the NHL during the 2010-11 season. (Getty Images)
Last season the Florida Panthers finally ended their long playoff drought by winning the Southeast Division before bowing out to the East champion Devils in a very tight seven-game series. Despite the relative success, the Panthers' need for more scoring was obvious.
Considering the Panthers are a team on a budget, sometimes they have to get creative. That would help explain why the Panthers are inviting veterans Alexei Kovalev and Marek Svatos to camp -- when it actually starts, that is.
Kovalev, 39, spent last season in the KHL. But per Miami Herald beat writer George Richards -- who took a photo to prove it -- Kovalev is already down in Florida working out with the Panthers players getting ready for the camp.
In 22 games last season with Moscow Oblast Atlant, Kovalev had just one goal and five assists. His last season in the NHL was with the Senators and Penguins in 2010-11, where Kovalev had 16 goals and 18 assists in 74 games. At his age you have to wonder if there's enough in the tank.
"I think I have enough experience and I feel great health-wise," Kovalev told Richards on Tuesday. "I know game shape is different than practice but it doesn't take that long, maybe a week, week and a half and you're in game shape."
In the case of Svatos, his agent said he too will be in the Panthers camp for a tryout.
Much like another former member of the Avalanche the Panthers signed, Peter Mueller, Svatos has been dealing with a lot of injury setbacks in recent years. He last played in the NHL with the Senators for 19 games in 2010-11, scoring three goals with two assists. But early in his career with the Avs he showed some scoring potential. Way back in 2005-06 he had 32 goals with 18 assists in his first full campaign. But Svatos has never played more than 69 games in an NHL season.
On the outside it sure looks like two players who are well past their prime and aren't likely to contribute much if anything. But the Panthers showed last season that they had a place for some veterans on their team as they brought in John Madden midseason. In the case of Kovalev and Svatos, though, you have to believe they're looking for a little more than a great veteran presence, they want scoring.
Even if it seems terribly unlikely either player would be able to give the Panthers what they want, there's absolutely no harm in bringing both guys into camp for a tryout. If they impress and show the Panthers something then perhaps they can earn a spot, but as of now there's no risk for the Panthers.
It seems like the Cats will have better luck finding the scoring they are missing by giving some of their hot-shot prospects a chance over the two veterans. Jonathan Huberdeau figures to be a lock to make the team and bring some real offensive potential while there are more guys such as Quinton Howden in the system who figure in down the line.
Will either player make the Panthers' roster? I wouldn't bet much money on it, but you never know until you see them play. General manager Dale Tallon has shown he wants to bridge the gap to the future, not force the future to be the present, so maybe these guys could fit that bill.
Update
Apparently you can add a third name to the tryout list: Andrei Kostitsyn.
2 other players could be at Panthers training camp on tryouts: Andrei Kostitsyn and Marek Svatos.

— Renaud Lavoie (@RenLavoieRDS) January 8, 2013
Kostitsyn finished last season with the Nashville Predators after being traded from the Canadiens, that was before he headed to the KHL this offseason. That was because he was a free agent in the NHL, though, not just because of the lockout.
Last season between Nashville and Montreal, Kostitsyn had 16 goals and 20 assists in 72 games. He was also notoriously suspended in the playoffs by the Predators along with Alexander Radulov for missing curfew. He is younger than the other players getting tryouts, though. Kostitsyn will turn 28 this February.
For more hockey news, rumors and analysis, follow @EyeOnHockey and @StubitsCBS on Twitter and like us on Facebook.
The team tweeted on Monday that Shaw would be re-evaluated in 7-10 days

The Montreal forward was hospitalized after taking a Zdeno Chara slap shot to the head

Tampa Bay is still No. 1 and Vegas is still up there, but a few others are finally catching...
Army filed an opposition to the use of 'Golden Knights' on the last day that it was permitted...

The NBC rinkside reporter is hoping to return in time for the 2018 Olympics

Here's who wade the cut for the 2018 NHL All-Star Game on Jan. 28 at Amalie Arena in Tampa...