NHL rumors: Phil Kessel likes playing in Toronto, doesn't want to leave
Will this stop the silly rumors? Phil Kessel likes it in Toronto and wants to stick around.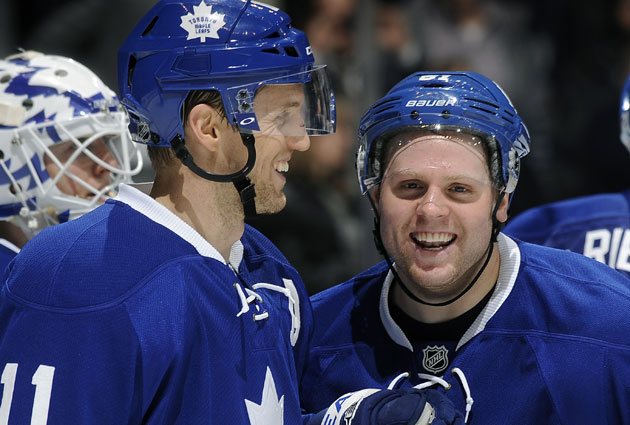 From the looks and sounds of it, Kessel is all smiles in Toronto. (Getty Images)
More NHL: Scores | Standings | Odds | Fight-O-Meter | League Leaders | Rumors
Go back a few weeks, when Phil Kessel couldn't buy a goal. There were some awfully crazy things being thrown out there about how the Maple Leafs should trade him, Kessel couldn't handle Toronto, etc., etc.
They were crazy then, and they are crazier now. As was easy to predict, Kessel has now started scoring goals and, mysteriously, the wild trade speculation has died down. Now the "Kessel wants out of Toronto" angle is losing steam, too.
From Kevin McGran of the Toronto Star:
Phil Kessel wants to be a Maple Leaf for life.

So says his agent, Wade Arnott, who went on Toronto radio Wednesday to say so.

"Phil is still a really young man [25 years old]," Arnott told the SportsNet Fan590. "He really enjoys living in Toronto and playing for the Toronto Maple Leafs.

"This young man lives and breathes hockey. He was very excited to come here four years ago. I think if you asked Phil today, he'd love to finish his career here in Toronto. But it's still young in his career right now."
There you have it; Kessel enjoys Toronto. I think many questioned if he did, considering Kessel is a quiet guy by nature and it's tough to be quiet when you're a hockey star in Toronto. As we all know, the light shines awfully bright on the Leafs.
It's not as if all the Kessel speculation came completely out of nowhere. He makes $5.4 million and will be an unrestricted free agent after next season, so people have already been wondering if the Leafs should re-sign him -- or if he would even want to be re-signed. After all, player salaries go up. And when Kessel wasn't scoring, some jumped to the conclusion that they didn't want the Leafs to pay roughly $7 million a season for another Scott Gomez. Because, you know -- Kessel started slow on the goal-scoring front, so it was time to rush to judgment.
If Kessel really does want to stay in Toronto because he likes it there, then GM Dave Nonis would be crazy not to do all that he can to re-sign him. He is still one of the premier scorers in the game despite a slow start this season, with at least 30 goals in each of the previous four seasons and has led the Leafs in scoring since being acquired from Boston before the 2009-10 season. If he were to become a free agent, there would be plenty of teams making a pitch.
Hopefully, this will put an end to the nonsense.
For more hockey news, rumors and analysis, follow @EyeOnHockey and @StubitsCBS on Twitter, subscribe to our YouTube account and like us on Facebook.
Vegas isn't being quiet about its hot start to the NHL preseason

The blue-liners are set for another big push, but Edmonton's rise is hard to ignore in the...

Meanwhile, the Devils' Brian Boyle isn't sweating his recent cancer diagnosis
Limited-time Warriors-colored jerseys are apparently on the way in January

The 32-year-old forward tells the media he expects to be back on the ice for the Devils op...

It seems it's all as wild as it sounds, with Canadian actor Zack Ward heading a 'West Coast...