NHL rumors: Phoenix Coyotes 'prepared to host an outdoor game'
The Phoenix Coyotes let the NHL know that Arizona is ready to become the next place to host an outdoor hockey game.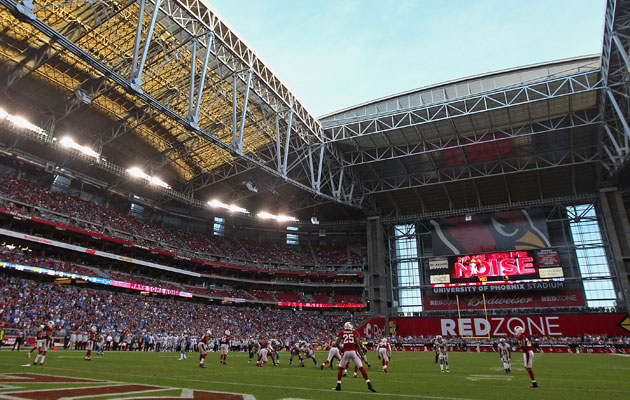 More NHL: Scores | Standings | League Leaders | Odds | Injuries | Power Rankings
Outdoor hockey has become all the rage, especially with the introduction of the Stadium Series this year that will bring outdoor games to Chicago, New York, Vancouver and even Los Angeles. Add that to the Winter Classic in Ann Arbor, Mich. and you have six outdoor games this season alone.
It's not a fad that's going to pass, at least anytime soon. The outdoor games will continue to come and presumably the wealth will be contiually shared, especially if the game in LA is a success.
Heck, even the Phoenix Coyotes want to host an outdoor game according to NHL Deputy Commissioner Bill Daly. Really.
Daly: Phoenix Coyotes told him they're prepared to host an outdoor game

— Hockey Central (@SNHockeyCentral) December 9, 2013
It might sound crazy considering this is the Valley of the Sun that we're talking about but Phoenix's temperatures aren't that much different than LA's in the winter time. The average low in LA in December is 47.5 (average high of 67.7) while in Phoenix the average December low is 44.8. So if they can pull it off in LA they should be able to do it in Arizona.
The logical venue would be University of Phoenix Stadium you'd figure, home of the Arizona Cardinals. But if it were either there or at Chase Field in Phoenix, both have indoor aspects and could probably be cooled relatively easily.
UPDATE: Perhaps the target would be Chase Field because according to Craig Morgan of Fox Sports Arizona, Super Bowl week in 2015 could be the targeted timeframe. Considering the Super Bowl that year will be at University of Phoenix Stadium, that would necessitate a move to Chase Field. With football's big game in town, it could lead to that much more exposure for an outdoor game.
No matter when or where it could happen, Dave Tippett would at least like to see it.
"It would bring great exposure to your organization," Coyotes coach Dave Tippett said. "If you can do it in a non-traditional hockey market, it would be a lot of fun, and I think the novelty would be part of the sell."
So if the logistical issues could be worked out, the other obvious concern is the interest or "deservedness" of the market. It's no secret that the Coyotes have been one of a few teams that have really struggled to draw fans and aren't a ratings juggernaut by any stretch. But I don't think there's much doubt that any outdoor game, no matter the location or size of the fan base, will be a hit. Maybe it would be a nice little token of appreciation to the fans in Arizona that have hung with the team through the trials and tribulations of ownership issues.
We'll wait to reserve judgment until the outdoor game in LA happens but maybe it's not quite as crazy as it sounds because it does sound a bit crazy.
Saturday's showdown will serve as a rematch of one of the NHL's first-ever regular season...

Stacia Robitaille says Donald Trump told her in an elevator that she was coming home with...

Vladislav Yeryomenko was the Teddy Bear Toss goal scorer for the Calgary Hitmen
The Golden Knights are finally getting their No. 1 goalie back after a 25-game absence

Washington has won four straight, and the Kings are also on a tear right behind the Lightn...

The NHL says it's only interested in expanding to Seattle, but here's a look at all the moving...