NHL Rumors: Red Wings could use buyouts on Samuelsson, Colaiacovo
The Detroit Red Wings could use compliance buyouts on wing Mikael Samuelsson and defenseman Carlo Colaiacovo.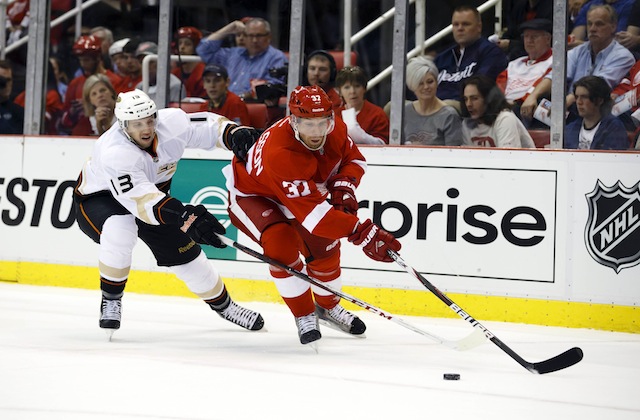 More NHL Playoffs: Scores | TV Schedule | Expert Picks | Odds | Mock Draft | Rumors
The Detroit Red Wings, with more than $10 million in cap space this offseason and already 20 players under contract, might not have a desperate need to shed salary, but they still might be looking at clearing some contracts off the books in the coming weeks to help re-sign some of their upcoming free agents.
According to Helene St. James of the Detroit Free Press, if general manager Ken Holland can't work out any trades to free additional cap space the team might look at compliance buyouts for wing Mikael Samuelsson and defenseman Carlo Colaiacovo.
As part of the new collective bargaining agreement, teams have two amnesty buyouts that won't count against the salary cap that they can use starting 48 hours after the end of the Stanley Cup Final through July 4. If teams don't use them this summer, they're allowed to use them next summer.
When it comes to Samuelsson, however, there might be an issue when it comes to a potential buyout. From the Free Press:
There's a hurdle, though: As of now, Samuelsson isn't healthy, and that makes him ineligible for the buyout. General manager Ken Holland said earlier in the week that Samuelsson has been told by doctors in the past two weeks that surgery is not required for the latest injury, which involved a sore pectoral muscle/shoulder. The best the Wings can hope for is that Samuelsson heals in the next 10 days, though it doesn't take a conspiracy theorist to see that for the player, there would be motivation to fight against being cleared.
Samuelsson, 36, returned to the Red Wings last July by signing a two-year, $6 million contract in free agency after spending one year with the Florida Panthers. Samuelsson previously played with the Red Wings between 2005 and 2009, winning a Stanley Cup with the team.
His second stop with the team wasn't anywhere near as successful, limited to just four games during the regular season, scoring no goals and recording one assist. He's on the books for a $3 million cap hit in 2013, which might be a bit too much for a player who will turn 37 in December and might not be 100-percent healthy.
Colaiacovo was brought in as a free agent to help fill the void left by the retirement of future Hall of Famer Nicklas Lidstrom but was limited to just six games. The arrival of college free agent Danny DeKeyser, as well as players like Jakub Kindl and Brendan Smith, should lessen the need for a player like Colaiacovo.
He has one year remaining on his contract at $2 million.
The Red Wings will need to work out new contracts for restricted free-agents Smith, Kindl, Gustav Nyquist and Joakim Andersson this offseason, while Valtteri Filppula, Damien Brunner and Dan Cleary will be eligible for unrestricted free agency.
The 40-year-old center is returning to the Wild after a successful run in Pittsburgh

Edmonton locks up its 21-year-old RFA a month after McDavid's historic extension

Even with a new coach and added veteran help, the Canucks have a long road ahead
Unlike expansion teams before them, the Knights have enough talent to entertain right away

Brian Lawton says he 'would not be surprised' if Boston deals its young star to end contract...

It turns out Phil does love his hot dogs, especially when they're in a Stanley Cup