NHL rumors: Ryan Callahan for Martin St. Louis? Tread lightly
Ryan Callahan's name remains on the trade block but a rumored deal for Martin St. Louis? It's been rumored but approach with caution.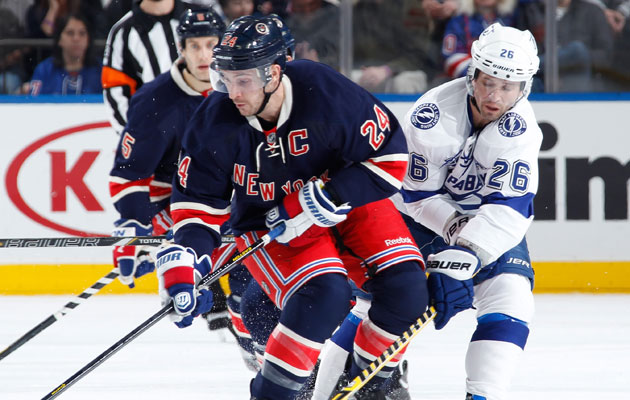 More NHL: Scores | Standings | League Leaders | Odds | Injuries | Power Rankings
Sunday was not only the end of the Olympic hockey tournament but it also brought about the end of the roster freeze in the NHL. It took no time for that old rumor mill to start spinning right away.
When we last left the trade talk, one of the biggest names on the block was Rangers captain Ryan Callahan. He's a free agent after this season and he and the Rangers reportedly aren't close to a deal. If that remains true by the trade deadline on March 5, he could be moved.
To where, though, and for whom? Both are serious logistical questions with cap crunches all across the league and Callahan's would-be status as a rental. That's where Boomer Esaison stepped in. Yes, the former NFL quarterback who is now a New York radio host and a big fan of hockey. What's he hearing? Only the name of last season's Art Ross Trophy winner, Martin St. Louis.
Esiason gave clarity to what he's been hearing Monday morning on the "Boomer & Carton" show. He said there's a good shot Rangers captain Ryan Callahan will be traded in a straight-up deal for Martin St. Louis of the Tampa Bay Lightning.

Boomer said the trade could include a conditional draft pick if Callahan, an impending free agent, decides to stay with Tampa Bay.

"Now the only reason this deal wouldn't go through is if somebody gets cold feet or somebody lowers their contract demands," Boomer said.
Maybe Boomer is on to something, maybe he's not, but let's just hold the horses there for a second. Martin St. Louis pretty much straight up for Ryan Callahan? That doesn't quite sound right now does it?
Per Larry Brooks of the New York Post, there was some actual dialogue on this front but it didn't go far for the reasons you would expect; the Lightning aren't interested.
Blueshirts' general manager Glen Sather has inquired about a potential swap of team captains in which pending free agent Ryan Callahan would go to the Lightning in exchange for St. Louis, but Yzerman's absolute lack of interest in dealing his leading scorer in exchange for a rental property has been made clear to the Rangers.
That sounds like a big stumbling block.
Of course it makes sense. Why would the Lightning want to trade their captain and leading scorer who is signed through next season at a pretty excellent cap hit of $5.625 million for Callahan, who is having a down offensive season, is injury prone and will be looking for a higher cap hit than St. Louis? It's a good question because it doesn't make a lot of sense.
The one crack in the foundation that perhaps Sather was reportedly trying to wiggle into here is any possible rift between St. Louis and Lightning GM Steve Yzerman. You'll recall Yzerman didn't initially have St. Louis on the Canadian Olympic roster and the captain was clearly upset with it. He was named a replacement though and won the gold medal with Canada.
Hurt feelings once upon a time or not, that hardly sounds like a reason to make a very questionable trade and end St. Louis' 13-season run in Tampa Bay as a beloved -- and very productive -- player. It might not be completely water under the bridge but gold medals should help soothe the pain.
Lightning beat writer Erik Erlendsson touched on it a bit more. It just doesn't make much sense at all for the Bolts.
And honestly I can't see the team captain being dealt would send a bad message through the TB locker room in what has been a surprise season

— Erik Erlendsson (@erlendssonTBO) February 24, 2014
In other words, Rangers fans, don't even let yourself get excited about landing St. Louis, the likelihood of it happening is very tough to see. But this is what the rumor mill churns up; did you miss it during the past few weeks?
Stacia Robitaille says Donald Trump told her in an elevator that she was coming home with...

Vladislav Yeryomenko was the Teddy Bear Toss goal scorer for the Calgary Hitmen

The Golden Knights are finally getting their No. 1 goalie back after a 25-game absence
Washington has won four straight, and the Kings are also on a tear right behind the Lightn...

The NHL says it's only interested in expanding to Seattle, but here's a look at all the moving...

The NHL says it is only looking toward Seattle for the next expansion team