NHL rumors: Ryan Kesler latest player to request a trade?
The rumor mill added yet another big name on Wednesday night with a report that Ryan Kesler requested a trade out of Vancouver.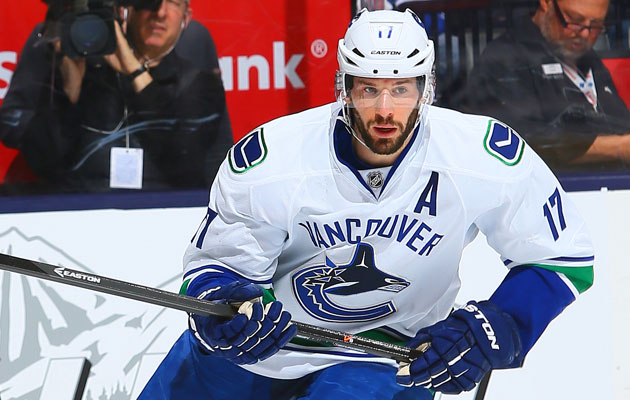 More NHL: Scores | Standings | League Leaders | Odds | Injuries | Power Rankings
Whether it will prove to be one of the busiest and biggest trade deadlines in recent memory remains to be seen but this much is certain; there are more big names in the discussion this season than we've become accustomed to.
The rumor mill's trade block added another high-profile name to the mix on Wednesday night in Vancouver Canucks center Ryan Kesler.
NHL exec told me if Kesler becomes available, it could change the entire dynamic of the trade deadline. #Canucks

— Louis Jean (@LouisJean_TVA) February 27, 2014
And just like that, we're off and running. Kesler marks the second big name this week to have reportedly asked for a trade, joining Martin St. Louis.
Of course it didn't take long for the denials to come out and Canucks GM Mike Gillis wouldn't discuss the matter but that won't stop the speculation. Kesler denied it himself after Thursday's practice as well.
Kesler: report I asked out is completely false. I don't want to talk about this. I don't want this to be a distraction

— Jason Botchford (@botchford) February 27, 2014
But Adding fuel to the fire was this from Jason Botchford of The Province in Vancouver, saying the process has already begun.
Whether that happens before the trade deadline next week or the draft in June remains to be seen. But the Canucks have been absorbing offers already and are planning to trade their Selke-winning centre.
That was echoed by TSN's Bob McKenzie. In other words, multiple people are hearing the same thing even if there are strong denials or no comments from the Canucks. Another report from Pierre LeBrun at ESPN.com says that Kesler didn't actually request a trade but the feeling out process is still underway for the Canucks. Request or not, a move does sound like it's in the beginning stages.
Complicating the situation is that the oft-injured Kesler is currently dealing with a hand issue that has him listed as day to day, the result of blocking a shot at the Olympics for Team USA. He always seems dinged up but plays through most of it and when he's on top of his game, he is one of the better centermen in the league, or at least he was a couple of seasons ago when he won that Selke and helped the Canucks to the Cup Final.
Gillis could find himself in the same spot he was in with goalie Roberto Luongo, trying to find the right deal. According to Botchford, the Canucks would insist on a young center who could fill the role left behind by Kesler down the line. But what team would want to give up on the next Kesler for the current, near 30-year-old Kesler? Working out a deal probably won't be smooth or easy, if one happens at all.
Kesler leads the Canucks in goals this season with 20 in 60 games, adding 18 assists. He also plays more minutes than any other forward in Vancouver, a pretty indispensible player for them. Certainly it puts Gillis in a difficult spot because he'll be tasked with getting adequate value in a trade but that is always extremely tough when dealing a player such as Kesler.
The 40-year-old center is returning to the Wild after a successful run in Pittsburgh

Edmonton locks up its 21-year-old RFA a month after McDavid's historic extension

Even with a new coach and added veteran help, the Canucks have a long road ahead
Unlike expansion teams before them, the Knights have enough talent to entertain right away

Brian Lawton says he 'would not be surprised' if Boston deals its young star to end contract...

It turns out Phil does love his hot dogs, especially when they're in a Stanley Cup