NHL rumors: Ryan Miller for Paul Stastny swap a possibility?
Buffalo's Ryan Miller has been on the block, the Avs' Paul Stastny too. Now a report says it wouldn't be a surprise to see them swapped.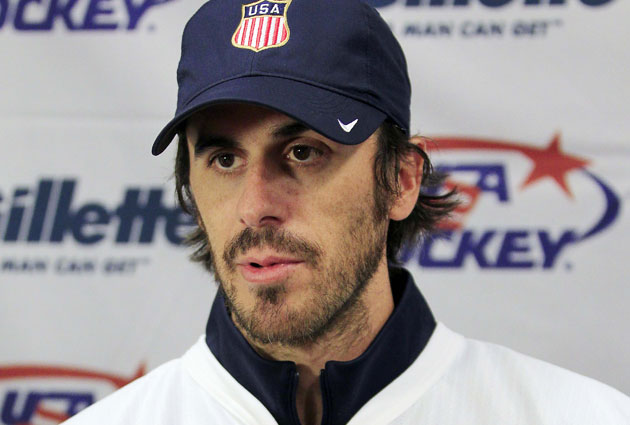 More NHL offseason: Rumors | Top 50 Free Agents | Buyout Tracker | Trades | Transactions
It's been a while since we've had a good, salacious rumor in NHL circles, that tends to happen in the month of August. But a somewhat juicy one popped up this week.
For a while now the future of Ryan Miller in Buffalo has been clouded. The Sabres made it clear that they were ready to steer in the direction of a rebuild when they traded captain Jason Pominville to Minnesota last season. They reportedly gave some thought to dealing their No. 1 goalie Miller at the time, too, but nothing happened on that front.
Perhaps it could happen sometime soon as Josh Rimer tweeted this on Thursday night.
Been told to NOT be surprised if the Avalanche deal Paul Stastny to Buffalo for Ryan Miller. Stastny/Miller both headed to UFA in summer

— Josh Rimer (@JoshRimerHockey) August 30, 2013
Before you get too excited take note of a couple things; the language is hardly definitive from Rimer and he hasn't always been right in the past -- though he has had his fair share of scoops as well.
That out of the way, it does seem like something that's plausible. Miller has said that if he's leaving Buffalo he would like to be closer to California and his wife. Colorado is a heck of a lot closer than Upstate New York. We know Miller has been on the block; heck, he sounded like a guy that was saying goodbye before his final game in Buffalo last season and let's not forget his house in Buffalo was up for sale.
However at the Olympic camp outside DC this week he addressed his future in Buffalo and had a slightly different tune.
"I still fit into it somehow -- I'm on the team, I've got one more year left and my intention is to be the best I can be as always," Miller said. "I feel like I still have a lot of hockey left and I feel like I can play at a really high level. I have to do what I can do to be a good teammate right now and help the Sabres become the team they need to be. I'm actually excited. I think we have a good group of guys, a little bit younger, but I think we're going to have pretty defined roles about what guys are expected to do. It's just like this [Olympic] team."
On the other end of the spectrum the Avalanche now have themselves a stable of centermen with the addition of top pick Nathan MacKinnon in the draft. That makes a guy like Stastny, who is a free agent next summer and has seen a drop in his offensive production, seemingly expendable. For what it's worth, Avalanche beat writer Adrian Dater believes one of Stastny or Ryan O'Reilly will be traded before the next deadline, so there's that angle too.
The Avalanche have Semyon Varlamov and Jean-Sebastien Giguere in goal right now but it's fair to say they could be better. Granted the goalies weren't helped by a defense that still needs some work in Colorado but last season the Avs were 27th in the league in goals against per game at 3.12. Varlamov had a .903 save percentage. Conversely, Miller has had a save percentage of .915 or better in each of the last five seasons.
Adding just a little more juice to this speculation is a comment from new Avs coach Patrick Roy earlier this year before he took over in Colorado.
So there it is, a rumor to chew on while you wait for the season to begin (one month until the regular season opens!).
Just remember, everything in Buffalo has to go. (I just thought you should watch this video again.)
Vegas isn't being quiet about its hot start to the NHL preseason

The blue-liners are set for another big push, but Edmonton's rise is hard to ignore in the...

Meanwhile, the Devils' Brian Boyle isn't sweating his recent cancer diagnosis
Limited-time Warriors-colored jerseys are apparently on the way in January

The 32-year-old forward tells the media he expects to be back on the ice for the Devils op...

It seems it's all as wild as it sounds, with Canadian actor Zack Ward heading a 'West Coast...