NHL rumors: Ryan Miller's name is 'in play,' but no trade imminent
Trade speculation is whirling around Sabres goalie Ryan Miller whose name is 'in play,' but no trade appears to be imminent.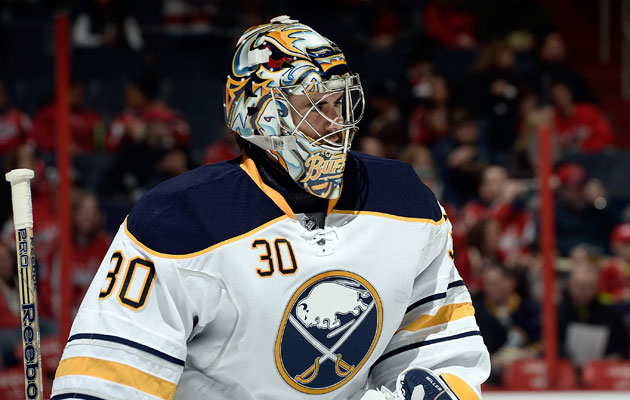 More NHL: Scores | Standings | League Leaders | Odds | Injuries | Power Rankings
With the Olympic roster freeze coming up in less than two weeks, creating what many expect to be an articificial first trade deadline, the Ryan Miller rumor mill is really starting to spin.
On Monday morning a rumor started circulating that the Minnesota Wild has made a big offer to the Sabres for Miller, an offer that included Dany Heatley and a NHL-ready prospect such as Charlie Coyle.
But later on Monday, Miller was on the ice with his Sabres teammates and was expected to start the game on Monday night in Pittsburgh, meaning that if anything is up, it's not imminent.
Imminent or not, that doesn't necessarily mean the Sabres aren't at least looking at the trade options for Miller, who is an unrestricted free agent after this season. Bob McKenzie tried to clarify while noting that things can always change in an instant.
I don't doubt BUF intends to trade Ryan Miller but I don't sense anything is necessarily imminent, even tho rumors seem to be rampant.

— Bob McKenzie (@TSNBobMcKenzie) January 27, 2014
But my best information is MIN isn't close on anything and BUF is working to move Miller but nothing imminent. As of this moment anyway.

— Bob McKenzie (@TSNBobMcKenzie) January 27, 2014
By the way, the same holds true for another rumored Miller suitor, the Blues.
Re: Miller speculation ... I do believe the #stlblues are very interested. I don't have any reason to believe that a trade is imminent.

— Jeremy Rutherford (@jprutherford) January 27, 2014
In a recent interview with Mike Harrington of the Buffalo News, new Sabres GM Tim Murray talked openly about considering trading Miller along with fellow soon-to-be UFAs Steve Ott and Matt Moulson, but he's not going to deal them just to deal them.
"I've told them all the same thing really and it was like, 'It's unfortunate you're going to see your name in the paper. That's just the nature of the game,'" Murray said. "They're not young players. They've been around. They know the game. They know that this is part of it.

"I told them not to believe everything they read or everything they've heard on the sports channels. But certainly their names are in play and we'll see what happens but it doesn't guarantee they'll be moved at all. For me, it's all about return. These are good players. So if the return was up to a certain point and not great and we then decide we want to talk to them about staying, then that's an option too."
Murray has come in to a tough spot, immediately having to make franchise-altering decisions his first few weeks on the job. None of those is bigger than deciding what he has to do with Miller. While he's exploring the market, it doesn't sound like he's exactly ready to make a major move right now.
Getting more teams involved in the potential talks only helps Murray to reach his stated goal of getting a good return should the Sabres go that route, but dealing this season with the salary cap limitations is going to be tough and moving starting goalies mid-season has always proven to be tough enough as is.
Miller has a .926 save percentage in 35 games this season with a 2.62 goals against average behind a Sabres team that has the worst record in the NHL. He will be joining Team USA at the Winter Olympics in Sochi.
Vladislav Yeryomenko was the Teddy Bear Toss goal scorer for the Calgary Hitmen

The Golden Knights are finally getting their No. 1 goalie back after a 25-game absence

Washington has won four straight, and the Kings are also on a tear right behind the Lightn...
The NHL says it's only interested in expanding to Seattle, but here's a look at all the moving...

The NHL says it is only looking toward Seattle for the next expansion team

The 33-year-old defenseman hopes to help find a cure for serious head injuries in athletes