NHL rumors: Sam Gagner connected to Kings for Kyle Clifford
The Kings need scoring and Sam Gagner is often in trade speculation so the two have come together in a rumor that includes Kyle Clifford as well.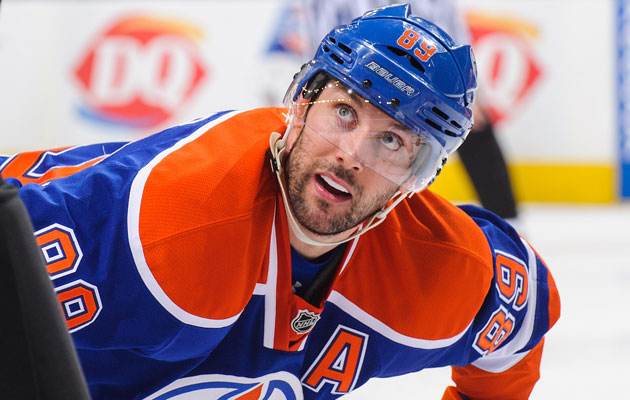 More NHL: Scores | Standings | League Leaders | Odds | Injuries | Power Rankings
It's no secret that the Los Angeles Kings are in desperate need of scoring help. It's also no secret the Oilers are a team that's more than willing to deal, having been involved in numerous trades already under GM Craig MacTavish.
So should we really be surprised, then, that the two are being linked in the rumor mill? Probably not.
But we can be surprised at the actual rumor making the rounds on Thursday.
Interesting tweets from @AJonSports regarding possible deal between LA and EDM involving Gagner and Clifford. Also hearing this possible.

— Bob McKenzie (@TSNBobMcKenzie) February 6, 2014
This isn't the first that we've seen Sam Gagner's name on the trade block in Edmonton and it's not the first time we've seen him connected to the Kings. There has been a fair amount of smoke around this.
What is on the new side is the suggestion that the Oilers are looking at Kyle Clifford in return. Straight up that doesn't seem to be the deal the Oilers would be looking for but I guess you never can be sure with Edmonton. From a cap standpoint, though, there would have to be a bit more to fit Gagner's $4.8 million cap hit onto LA's roster.
It's just hard to see the 23-year-old Clifford being the guy the Oilers need to take the next step; he's a fourth-liner with three goals and two assists this season. They would need more from LA to make a deal work financially but you'd hope that MacTavish would look at it and say they need more anyway to make the deal work logically.
It feels like Gagner has been around for a long time and while he is in his seventh season with the Oilers, he's just 24 years old. He has been a very consistent scorer over the years, landing in the 40s every season until last season's 48-game campaign. But that's when he had arguably his best season by posting 14 goals and 24 assists in those 48 games.
This season he's back on the usual pace if not a little behind in the goal department with 23 points (six goals) in 45 games -- remember, he suffered a broken jaw in the preseason, delaying his start. A down number in goals wouldn't seem ideal for LA, they have that in spades, but maybe a change of scenery would give Gagner that lift.
Gagner is signed through 2015-16 with his $4.8 million annual salary so this wouldn't be a rental situation for the Kings. Still, even with the deal in place, he has never escaped the trade speculation because expectations have always been high for the former sixth overall draft pick.
The Golden Knights are finally getting their No. 1 goalie back after a 25-game absence

Washington has won four straight, and the Kings are also on a tear right behind the Lightn...

The NHL says it's only interested in expanding to Seattle, but here's a look at all the moving...
The NHL says it is only looking toward Seattle for the next expansion team

The 33-year-old defenseman hopes to help find a cure for serious head injuries in athletes

Chicago becomes the latest NHL club to earn an evaluation of $1 billion or more