NHL rumors: Sergei Bobrovsky now has offer on table from KHL team
While contract talks continue between the Blue Jackets and goalie Sergei Bobrovsky, one KHL team has now actually put forth an offer.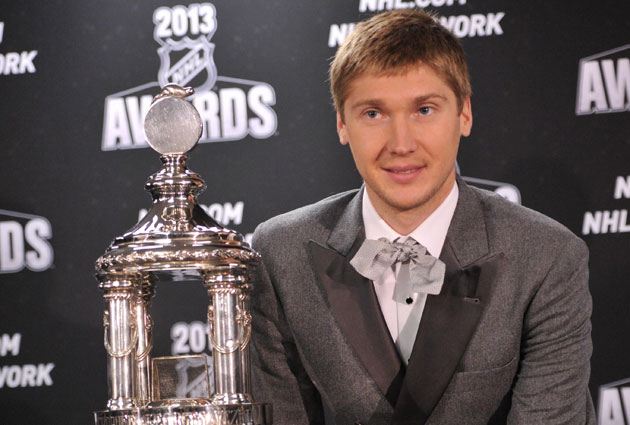 More NHL Playoffs: Scores | TV Schedule | Expert Picks | Odds | Mock Draft | Rumors
Since Blue Jackets goalie Sergei Bobrovsky still doesn't have a contract for next season, the KHL's SKA St. Petersburg is stepping up its pursuit of the Vezina Trophy winner.
SKA's president, Alexander Medvedev, who also happens to be the KHL president (doesn't that seem unfair?), said he has spoken to Bobrovsky and the Blue Jackets about his impending restricted free agency. Not only has he met with Bobrovsky and his camp, but he has now extended an offer.
"I've met Sergei and his agent. We held negotiations, an offer was made," said Medvedev, who is also a director of SKA. "Now the player has to make his decision. The choice is his."

Medvedev suggested a move to SKA could help ensure Bobrovsky of being Russia's starting goaltender at next year's Olympics in Sochi, the first time the Winter Games have been held in his home country.

"What could be better than playing front of the national team's training staff in an Olympic year?" Medvedev said, and denied a move out of the world's biggest league would be a bad move for Bobrovsky.
This really could get interesting. The longer that Bobrovsky remains without a contract from the Jackets, the greater the threat the KHL will appear. It's probably still a long shot, but the threat is more than real. And there is always some concern about Russian players going to the KHL.
Add in the pressure of the Olympics and the KHL almost using it as a threat to players to come to their league and the fact that Bobrovsky played for SKA during the lockout. It's enough to make fans of the Jackets at least a wee bit nervous.
Columbus continues to work on a new deal for Bobrovsky, but it certainly won't be cheap after he took home the Vezina in decisive fashion this season. He had a 21-11-6 record with a .932 save percentage and 2.00 goals against average, his first season in Columbus since being traded from Philadelphia.
The unsigned forward, still in search of a team, is campaigning for himself

The league shoots down a report that NHL players could still be permitted to go to the Oly...

The 45-year-old forward remains unsigned but has shown little desire to hang up the skates
Pittsburgh also has been linked to Matt Duchene and could be in the mix for Tyler Bozak

Nashville extends its 24-year-old restricted free agent with what could be bargain numbers

Calgary forward is all for playing for the Flames, but he also likes the idea of going to...